Hero
From GameBrew
Hero
General
Author
AronBS
Last Updated
2006/03/21
Type
Platform
Version
2006
License
Mixed
Links
Download
Website
Hero is a DS homebrew action platform game.
It was presented in the NEO Spring Coding Compo 2006, ranked 9th.
User guide
You're looking for the evil girl who kidnapped the king, and your mission is to track her down. but OH! she's hiding behind a locked door which can only be opened by solving the labyrinth and finding all three keys (the small tables).
It doesn't matter which one you go to first, the whole map goes around so just be calm and play it in your own pace.
It will take some skills to complete this version.
The goal is to find three minor monuments, when all three are found...
Controls
Left/Right - Walk
L - Jump
Drag from the body to the enemy - Attack with the sword (or far jumps)
Tap character - Attack where he stands
Microphone - Used on some platforms that will only move if you blow
Screenshots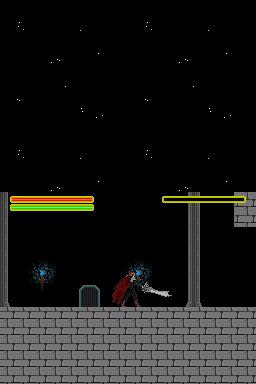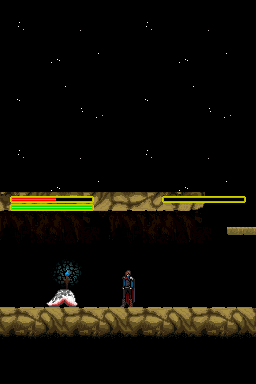 Known issues
WiFi works, Emulator doesn't work.
Changelog
Updated
Some improvements have been done:

The mupp enemy is easier
Magic works.
The "Draw your sword"-time is longer.

When calling for you helping spirit you have to touch the red symbols that appear they will make a form of something. When all are pushed you will get help.
Touch the text to go forward in a dialogue if you didnt know that. some people goes crazy on this (The touch response isnt that good).
External links