Helicopter DS
From GameBrew
Helicopter DS
General
Author
Earboxer (34 * ß0 ® 3 ®)
Last Updated
2010/04/13
Type
Action
Version
0.21
License
Mixed
Links
Download
Website
Helicopter DS is a clone of the game Helicopter for the NDS. It is based on a homebrew game on Wii in which you fly a helicopter through a series of obstacles in a tunnel and try to survive.
User guide
Avoid green obstacles to get points. It has a simple initial menu where you can choose three levels and two game mode.
Controls
Menu:
D-Pad - Scroll through options
A - Select
In game:
Left/Right - Color change
Up/Down - Resize
Button - Increase altitude
Start - Pause
Screenshots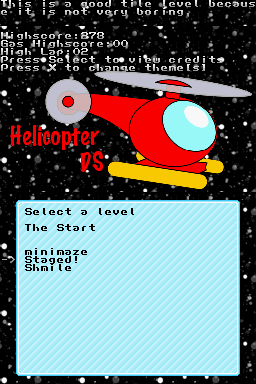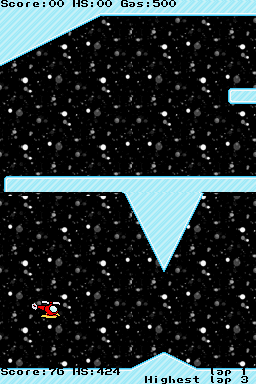 Compatibility
Tested on:
DSTT (firmware 1.17 and 1.17a12)
iPlayer (OS 1.3 firmware 1.0.6)

Changelog
0.21
Now has a 321go countdown.
2 more levels.
Splash screens.
Credits.
Fixed 500 points glitch.
Rainbow color.
External links