Hax0r 3DS
From GameBrew
Hax0r
General
Author
TurtleP
Last Updated
2016/07/08
Type
Platform
Version
1.2
License
CC BY-NC-SA 4.0
Links
Download
Website
Source
HAX0R is a homebrew platform game about being a computer virus, created with the intent of stealing 1MB of data from a remote computer. Examples include PaintBurd (image files) and Audioblaster (audio files).
This is the second homebrew game by TurtleP using the LovePotion framework, which was initially made for Ludum Dare 33 with the theme "You are the monster".
User guide
In Hax0r, you play as a virus uploaded into an old PowerPC 95 machine and go into various rooms filled with file extension-based enemies.
Along the way, you'll stomp on bits to collect and download the data, dodge antivirus fireballs, smash proxy drones, and parkour through firewall blocks in one small room.
Screenshots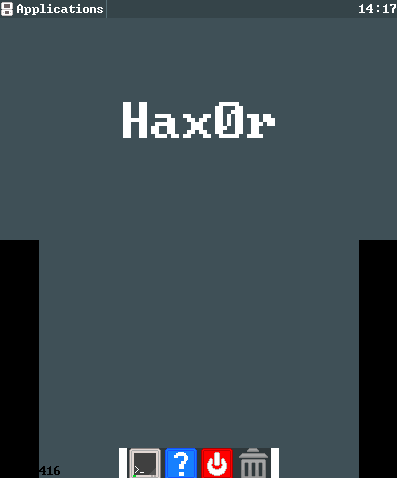 Media
[Beta 2] Hax0r Gameplay (TurtleP

External links