GuitarSound
From GameBrew - a wiki dedicated to Video Game Homebrew.
GuitarSound DS
General
Author(s)
fooshi
Type
Other Application
Version
1.5
Licence
Mixed
Links
Download
Website

GuitarSound (French) is a tuner for guitar and bass. It integrates the different guitar chords and a complete drump machine. This is the first project DS made by fooshi.
User guide
Click on the mechanics of the guitar or the bass to play the note, change the tuning by clicking on the arrows or with the directional cross.
A credit is available by pressing start during the first menu.
The rhythm machine includes 2 modes, a Free Mode where you can test the drum sounds and a Loop Mode to create your drum loops live.
The chords part is implemented with 108 chords.
Controls
Start - Credits (menu)
Stylus - Tuning, Play note (arrows)
D-Pad - Tuning, Play note
Screenshots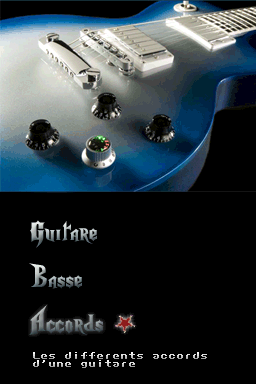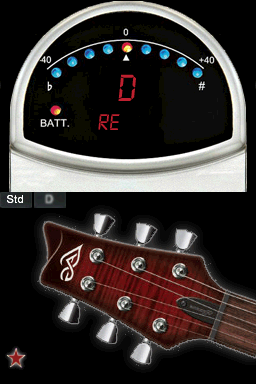 Changelog
Version 1.5
Added standard tuning and drop D tuning tabs.
Increase in the volume of the notes played.
Version 1.13
Algorithm for choosing chords.
Structure of the different agreements and initialization.
Display of keys on the neck.
108 chords are included.
Version 1.12
Bug fix of menu, guitar and bass.
Optimization of the guitar and bass source code.
Addition of the frequency of the note played.
Added chords interface.
Modification of the animated splashscreen.
Version 1.11
General code optimization.
Addition of an animated splashscreen.
Optimization of the credit code.
Changing the guitar sound.
Addition of the following tunings for the guitar:

Standard Tuning.
1/2 Ton tuning.
Drop D tuning.
Drop C tuning.
Drop B tuning.
Standard D tuning.
Standard C tuning.
Standard B tuning.
Baritone tuning.
Open G tuning.
Open D tuning.
Open C tuning.

Added bass + different bass tunings:

Standard Tuning.
1/2 Ton tuning.
1 Tone tuning.
Drop D tuning.
Drop Db tuning.
Drop C tuning.
Drop D / G tuning.
Drop G tuning.
Standard B tuning.
Drop A tuning.
Tuning B 1/2 Ton.

Addition of a rhythm machine with 12 drum sounds:

Free mode to play the sounds.
Loop mode to create your drum loops on the fly with a rhythm of 60 to 160 BPM.
External links