Grow RPG
From GameBrew
Grow Collection - Grow RPG
General
Author
Campanile
Last Updated
2007/08/12
Type
Role playing
Version
0.95
License
Mixed
Links
Download
Website
Grow RPG 2 is a DS homebrew turn-based game, inspired by the Legend of Zelda series, where you can evolute objects on a planet by using different items in order to achieve the goal. The gameplay is an adaption of Grow RPG and Grow Cube, which both are orignal flash games by EYEMAZE.
It is participated to the Dev-Fr.org Compo 2007 sponsored by DS-X, ranked 4th in the Game section.
User guide
A new world opened to Evolution. Two forces, evil and good, fighting for this new place. Help Link build a perfect world, help him defeat the Red Devil.
Each element will evolve with time and interaction with other elements, the best combination will lead Link to success, others will send him in a deadly adventure.
Touch the element to set-up, watch the evolution, try to find out how evolution works. You can fast forward some animations by holding the stylus pressed.
Objects
These are the objects that will be available. When you put them all, Link will use them accordingly in the order in which you put and how they evolved.
Stone - Create a lot of rubble to the side of the planet. In its last level it will surround the stairs.
Tower - Contain a chest with various content. Every time you level up you get one more floor. At its peak level you will find a shield.
Chest - Can be opened only at its maximum level, which is on a mountain with a stone on the road. Link will open it if you have the bomb.
Water - Turn the cracks created by the demon into seas, preventing him from further creating them, leaving him idle until the sixth turn.
Tree - Create a small forest that will grow in size. At its peak level there will be a cabin in the woods and a blue tree with fruit on the side.
Store - Help you buy multiple items. At its peak level you will have a dock to access the blue tree on the island. Link will buy things depending on the number of coins he carries.
Stairs - Take you to an underground with two chests. If after the attack of the violet dragon the castle is still intact, you will be able to access the second chest with a key that will be given to you in the castle, which contains a stone.
Castle - Contain an army inside. At the maximum level you will win in the battle against the dragon, as long as the stairs are already on the map. If still intact, you will find some money and the key to the second chest of the stairs.
Tactics
These will be the devil's tricks so that you don't get to him. He always performs them in the same order, so it won't be difficult for you to anticipate his movements.
It will hit the ground opening large cracks. It will do this for 5 turns.
It will summon a purple monster.
It will summon a blue monster.
It will summon a yellow monster.
Controls
Stylus - Select in menu, Choose object to be placed
Screenshots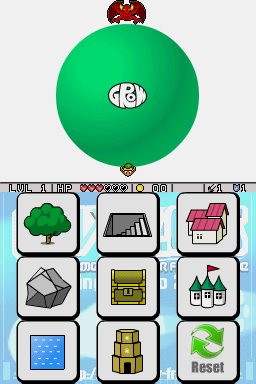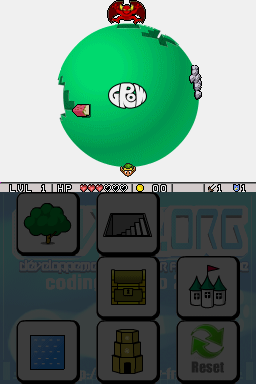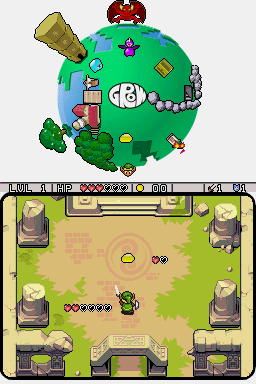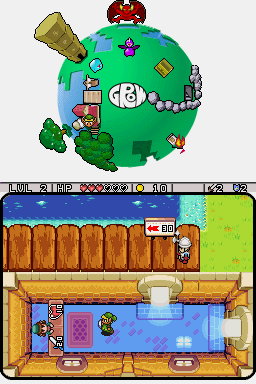 Compatibility
Tested on:
iTouch DS (firmware 3.2b)
M3DS Real (firmware 4.3f)
M3DS Simply (firmware 1.14)
R4i (unknown firmware)

Known issues
Priority issues, some sounds issues.
If touching buttons too fast, you will be forced to reset the game.
Changelog
v0.95 2007/08/12
aka author's friend modPlayer.
Tower bug is gone, now it collapses at the right time.
Score are fixed, end module was driving modplayer crazy so it is removed. Only this version can upload scores now.
v0.9 2007/07/29
External links