GrooveStep
From GameBrew
GrooveStep
General
Author
bioroid
Last Updated
2008/12/25
Type
Music Apps
Version
1.0
License
Mixed
Links
Download
Website
GrooveStep Digital Music Studio is a full featured music making application for the Nintendo DS. It features an easy to use step sequencer for pattern based music making.
Features
Easy to use step sequencer with up to 4 Groove Sliders per step.
16 monophonic tracks with up to 2 sounds per track with ADSR envelopes and LFOs.
16 variable length patterns up to 64 steps long.
16 channel mixer with volume, mute and solo control.
Song arranger can chain up to 255 patterns each with individual settings.
WAV file support with preview in file browser with up two 2MB of sample RAM.
XY PAD real time performance interface.
Installation
Download and extract file.
Copy the GrooveStep.nds (or .sc.nds for SuperCard users) file and GrooveStep directory (from the DS folder in the archive) to the root of flash card.
Note from developer:
To convert your songs from previous versions, just convert all your RAW samples to WAV files (with .wav extension). No other changes have to be done.
User guide
If you are having problems loading WAV files, try load/saving any problem WAV files in something like Audicty (freeware) or Sound Forge.
The WAV file loading code just uses the most common format and may not be compatible with non standard wav files.
Controls
L - Bring up menu (screen navigation, pattern/song options, copy/paste, options screen)
Select – Show/hide the settings screen
Start - Start/stop playback
D-Pad - Change/edit selected slider control when a control is highlighted
Left/Right - Change current pattern if no control is highlighted (on pattern screen)
Stylus - Everything else
Screenshots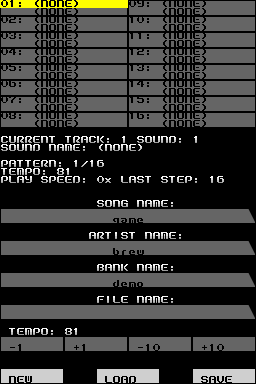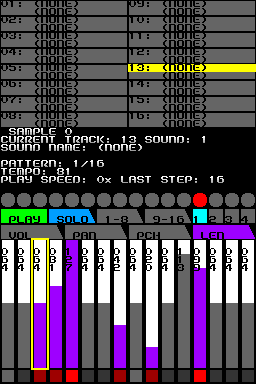 Media
GrooveStep Teaser (groovestep)

Changelog
RELEASE 1.0
Replaced RAW sample support with basic WAV file support (mono, 44100KHz).
Added pattern RESET button to Edit Tab on PopUp screen.
Added TEMPO edit to SONG screen.
Added WAV file preview ON/OFF option to Settings Screen + functionality to file select screen when selecting wav files.
Added XYPAD LINK option in Settings to allow independent track control for the X and Y axes.
External links