Gravity (eglomer)
From GameBrew
Gravity
General
Author
eglomer
Last Updated
2009/08/26
Type
Arcade Games
Version
0.2
License
Mixed
Links
Download
Website
Gravity is a DS homebrew game with mixed features of skill and puzzle game. The homebrew is available in English and Spanish.
It was participate in the Scenery Beta 2009.
Features
Online ranking.
Use objects to help you in your adventure by pressing buttons.
Possibility to use your own .mp3 files for background music (default music provided by El Sátiro Vago).
An instructions manual which teach you all you need to know about gameplay and game configuration.
A specific version for emulators.
Installation
Download and extract file.
Copy Gravity folder into your flashcart's root. Make sure that inside this folder there must be another two folders called data and config.
User guide
Gravity is a skill game in which enemies will chase you untiringly, and you must dodge all to survive. You can collect some helpful items that appears in the screen, but to use them you must catch them before they disappear.
Game modes
Free - In this game mode you can configure the gameplay completely.
Survival - Dodge all your enemies as longer as you can. Easy, normal and hard levels available.
Impact - Destroy all your enemies in the shortest time possible by making them crash against the blocks on the board. 20 levels available (easy, normal, difficult and extreme).
Items
Bomb - It will make any enemy within the range of this powerful bomb disappear.
Fire - Any enemy that touches you while under the effect of this object will be eliminated.
Ice - Freeze your enemies temporarily.
Decoy - Create a decoy of yourself that will temporarily attract your enemies.
Repellent - It will keep your enemies away from you.
Shield - It will protect you from your enemies, although it only serves one impact.
Note: The shield will be activated automatically, and you will lose it if you use any other object.
Controls
Up/Y - Use Repellent
Down/B - Use Ice
Left/X - Use Decoy
Right/A - Fire
Stylus - Move Gravity
L/R - Use Bomb
Start - Pause
Screenshots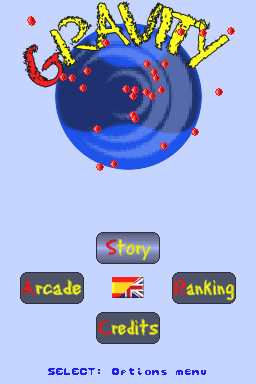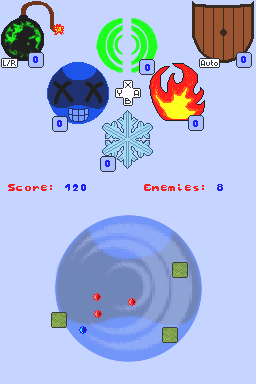 Media
Gravity for Nintendo DS (Eglomer Von Alexander)

Compatibility
Tested on:
Original R4 (firmware 1.17)
TTDS/Top Toy DS (firmware 1.15)
Ez-Flash V (firmware 2.00)

Changelog
Version 0.2
Removed Gravity at the beginning of the game screen so that you can touch where you want and not on it.
Disabled control by menu buttons waiting to redo it again.
Added Options menu available at any time by pressing the SELECT key (except during game screens and while sending and receiving data online). It consists of MP3 music player, SFX control (On / Off) and screen control (3 brightness levels).
Transitions cut in half.
Added sound effects.
Wifi ranking for Arcade mode.
Fixed the teleport bug that caused you to go through blocks.
Adjusted the duration of the objects and added a countdown to know how long until their effects disappear.
Optimized the ranking system.
Added corrupt anti-savedatas system (that is, the savedatas that you have right now due to the change of the ranking system) to avoid problems during the game and in the online ranking.
Added level editor as a new game mode in Arcade (Arcade -> Free).
Added "Opening".
Adjusted the difficulty level of Arcade levels 3-x and 4-x -> Impact.
Fixed "Extra Points" item bug that gave points in Arcade mode -> Impact instead of removing them.
Fixed graphical and operational bug of the "Fire" object.
The music for the game has been provided by El Sátiro Vago.
External links