glitchDS
From GameBrew
glitchDS
General
Author
Clone45
Last Updated
2008/07/05
Type
Music Apps
Version
1.4
License
Mixed
Links
Download
Website
GlitchDS is a homebrew Cellular Automaton music sequencer for the Nintendo DS. It is for creating IDM and Glitch style loops. R4DS is required for using this application.
Features
Customizable Cellular Automaton sequencer.
Create your own "trigger points".
Load in your own sounds.
Save and load your work.
BPM settings, or "strum mode" for controlling tempo.
Up to 6 sounds can be loaded at once.
Each sound has its own 32 step frequency modulation sequencer.
Global Distortion setting.
User guide
glitchDS is organized into different pages.
Sequencer Control - It has a 32 step sequencer based on the Game of Life. After 32 mutations, the sequence starts over.
Trigger Config - How does the sequencer know when to play a sound? Triggers! It specifies what should happen when a node on the sequencer graph changes from 0 (black) to 1 (white).
Choose Sounds - You can assign a sound to one of the swatches (otherwise known as the little colored boxes at the top of the screen).
Clock Control - Allows you to set the BPM (beats per minute) of the sequence playback. The BPM is approximate.
Frequency Modulation - You can modify the frequency (pitch) of each sound via the frequency modulation page.
Distortion Settings - A rapid fluctuation of the sound's frequency.
Save/Load - Save current song along with all settings.
Further details can be found from the official site.
Controls
Global:
Start - Toggle between starting/stopping the sequencer
L/R - Switch between pages
Sequencer Control:
Draw on bottom screen to "seed" the cellular automaton pattern.
Y - Clear sequencer pattern
Left - Decrease sequencer length by a power of 2
Right - Increase sequencer length by a power of 2
A+Left - Decrease sequencer length by 1
A+Right - Increase sequencer length by 1
Trigger Configuration:
Draw on bottom screen to place triggers for cellular automaton sequencer.
Y - Clear triggers
Choose Sounds:
Up - Scroll up to previous sound
Down - Scroll down to next sound
X - Page up to previous page of sounds
B - Page down to next page of sounds
A - Load sound into selected swatch
Clock Control:
Up - Increase BPM by 1
Down - Decrease BPM by 1
Right - Increase BPM by 10
Left - Decrease BPM by 10
Y - Toggle between strum mode and BPM mode
Frequency Modulation:
Y - Reset all frequencies to 22,100
B - Reset all frequencies to NOTE OFF
A+Up - Shift all frequencies up
A+Down - Shift all frequencies down
Snapshot Files:
A - Load selected snapshot
B - Save current song as new snapshot
X - Save current song as selected snapshot (write over selected snapshot file)
Y - Delete selected snapshot file
Left - Save current song settings as a new version of selected snapshot file
Screenshots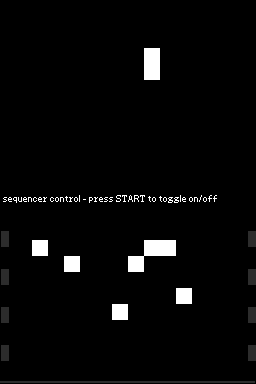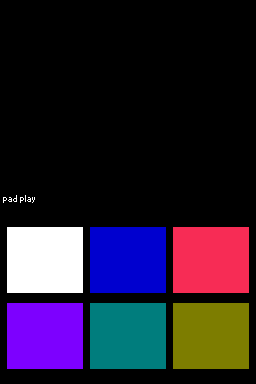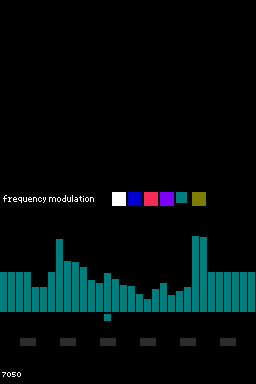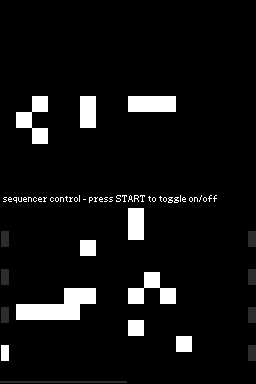 Media
Demo (Bret Truchan)

Demo 2 (Bret Truchan)

Compatibility
Works on:
DSLinker, DSTT, CycloDS Evolution, Acekard 2, EDGE, DS-X
M3Real pack (need to load it using Slot 2/the GBA slot, which in turn requires you to have a GBA expansion pack)
M3DSreal with system software 3.7 using DSOrganize
On the NAND memory of the "AceKard R.P.G" card
Games & Music card after DLDI patching
EZ Flash 5 after patching the DLDI driver

External links