Game Boy Advance RGB Colour Test
From GameBrew
Game Boy Advance RGB Colour Test
General
Author
ry0g4_
Last Updated
2021/11/10
Type
System Tools
Version
1.0
License
Zlib
Links
Download
Website
Source
Game Boy Advance RGB Colour Test is a homebrew software for the Nintendo Game Boy Advance, developed in C using DevKitPro.
Controls
Start - Reset colour bars
Left/Right - Change RED value (-/+).
A/B - Change GREEN value (-/+).
L/R - Change BLUE value (-/+).
Screenshots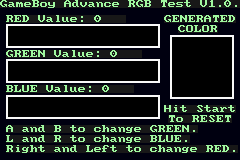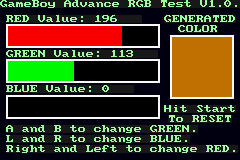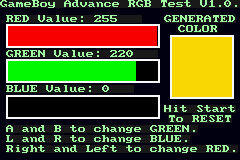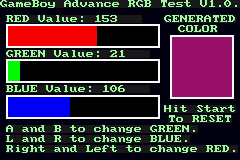 Media
Writing a Simple RGB Test ROM for Game Boy Advance using C Programming Language (DevKitAdv) (RYOGA V.S. the ARCADE MOLE!)

Compatibility
Tested on both VBA and MyBoy! GBA emulators.
Credits
Developed by Ry0G4_ from Hammer☆Keyboard☆Studios.
External links