GBA GPS mapping receiver
From GameBrew
GBA GPS mapping receiver
General
Author
Mikhail Sharonov
Last Updated
2005/04/04
Type
Other apps
Version
2
License
Freeware
Links
Download
Website
GBA GPS is an aplications that allows you to use Game Boy Advance as a mapping receiver and scan maps with a GPS device.
Features
Up to 20 maps (raster images (scanned maps, satellite images, whatever) of any size.
Automatic (searches appropriate map when position is out of the current map) or manual switch between maps.
Always holds current position on the map at the screen center by fast (but in dependence on the speed) and precise scrolling of the map).
Browse mode allows to view maps (pretty similar to GPS picture viewer).
GPS fix can be shown/hidden (Time, Number of satellites, Latitude, Longitude and Altitude).
Adjustable parameters of serial port.
Shows NMEA messages for debug.
zoom out to 2x, 4x, 8x.
Gamma correction of the images.
User guide
What is needed:
GBA console.
GBA flash cartridge.
Any GPS sensor/receiver with NMEA 0183 output (serial (RS232) at 1200, 4800, 9600, 38400, 57600 or 115200 bps).
Note:
There are many different sensors available, from inexpensive stamp size modules with the price less than $40, GPSR/sensor from Garmin or Magellan and others. Almost all sensors/receivers have NMEA output, but some of them operate only at 4800 bps, this baud rate is currently unsupported. This limitation is due to limitations of GBA UART mode.
All tests are done with Magellan Meridian GPS.
Screenshots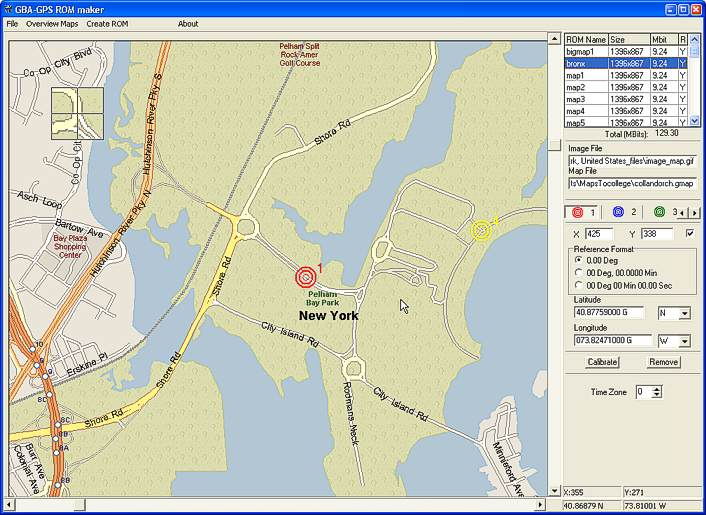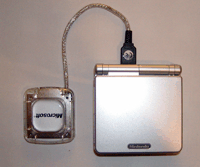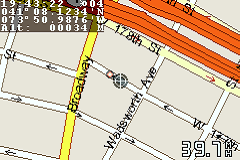 Changelog
2005/04/04
Based on your comments new features are implemented in v.2: a) speed b) heading c) auto saving the settings and the last position on the map.
New menu items are added to the GBA program.
New default settings are added to the ROM maker program to turn on and off the heading marker and to select units for the speed (MPH, Km/H).
Screens (GPS fix - (GPS fix+speed) - (speed only) - nothing) are switchable in turn with the "R" button.
Auto saving works with flash card with the RAM.
If no RAM exists or the RAM is not as expected, the map will be loaded with the default settings (not tested, I do not have flash card without RAM). When signal disapears 0 satelites are shown (bug of previous version). I still keep the old version in case ver. 2 has bugs.
2005/03/29
Pat Crowe have connected Trimble LassenSQ module to GBA . Please see Appendix C for details.
2005/03/18
Several bugs were fixed in GBA GPS ROM maker.
2005/03/14
Tested with Garmin Etrex. Works fine.
2005/02/24
I attached GPS sensor from the Microsoft Street and Trips 2005 bundle (see Appendix B for details). It has slightly different NMEA output format, I did support of NMEA more flexible, now my program reads both Meridian GPS and Microsoft GPS fine.
Minor bugs fixed in GBA GPS ROM maker.
2005/02/17
1200 and 4800 baud rates are added.
Algorithm of movement is improved (more smooth scrolling).
Menu "settings" is added to GBA maker program to change default settings.
External links