Froskipoly
From GameBrew
Froskipoly
General
Author
Froskito
Last Updated
2010/09/02
Type
Board
Version
2.0
License
Mixed
Links
Download
Website
Froskipoly (Spanish) is a Monopoly style board game for Nintendo DS by Froskito.
It is presented to the Scenery Beta 2010.
User guide
The game is designed to be played by two players, as there is no single player mode against the CPU.
The game features all types of houses, hotels, 2 chips, money, luck cards, box cards, dice with sprites and everything that every Monopoly game has.
An additional function is you can take screenshots during the game, which will be stored in the folder that is attached to the download (can save up to 12 screenshots).
Controls
Stylus - Full control of the application
Start - Roll the dice
A - Microphone
X - Play
Y - Take letter
B Screenshot
Up/Down - Increase/decrease money (Player 1)
Left/Right - Increase/decrease money (Player 2)
Screenshots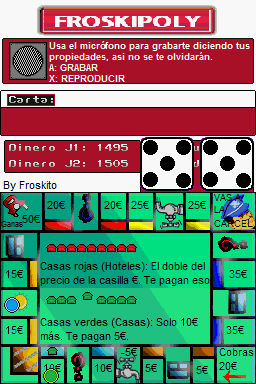 Compatibility
Tested on iTouch2 (firmware 3.8c).
External links