Friday Night Funkin 3DS Edition
From GameBrew
Friday Night Funkin' 3DS Edition
General
Author
Finnuel Aguilar
Last Updated
2021/08/28
Type
Music
Version
12
License
Mixed
Links
Download
Website
Friday Night Funkin', also known as FnF, is an open-source donationware rhythm game that shares some gameplay features with Dance Dance Revolution, PaRappa the Rapper and borrows aesthetic influences from Flash games. It was first released in 2020 for the Ludum Dare 47 game jam by a team of 4 Newgrounds users.
This is an unofficial 3DS port based on the PSX port created by cuckydev.
Features
Freeplay (includes all 7 weeks).
Story mode (same as above).
Settings (only includes downscroll).
Installation
Available in CIA format, install the .cia file with a title manager of your choice.
User guide
FnF revolves around the player character, Boyfriend, who must defeat a variety of characters in singing and rapping contests in order to date his love interest, Girlfriend.
In this game, you must pass multiple levels, referred to as weeks, each containing three songs. Each week, you face a different opponent, though some deviate in structure from this via the inclusion of multiple opponents.
During gameplay, the opponent will sing a pattern of notes (represented as arrows) which you must then mirror by using the keypad. Some songs introduce more complicated patterns, with your pattern sometimes varying from the opponent's or both singers engaging in a duet.
Screenshots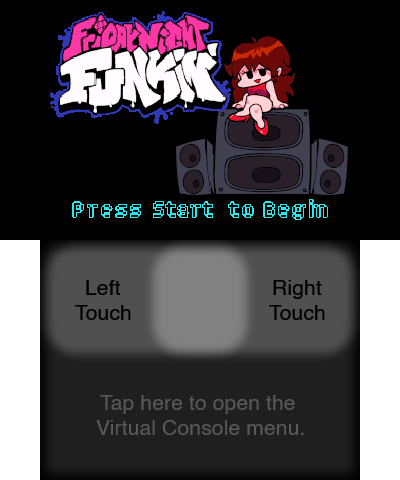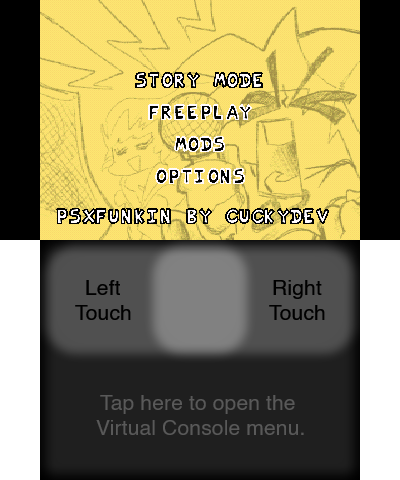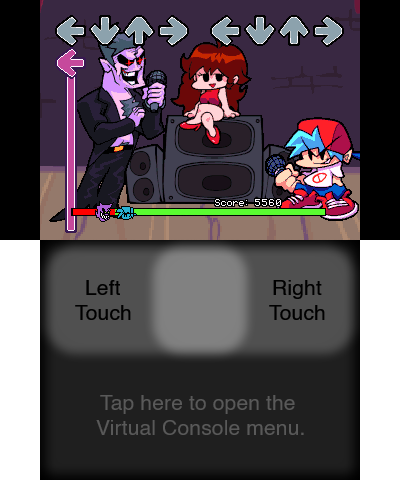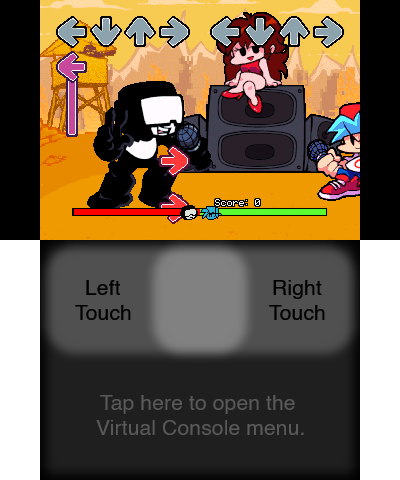 Compatibility
This can only be played on a New3DS/2DS.
Credits
Credit to CuckyDev for PSXFUNKIN on github.
Credits to Tommizie / Redbear for the profile picture.
External links