Flappy Pixel 3DS
From GameBrew
Flappy Pixel
General
Author
ll0rT
Last Updated
2015/05/26
Type
Arcade Games
Version
1.1
License
Mixed
Links
Download
Website
Source
Flappy Pixel is a simple Flappy Bird clone for 3DS.
Installation
Available in CIA, 3DS, and 3DSX formats.
3DSX - Use the .3dsx provided with the Homebrew Launcher.
CIA - Copy .cia to your SD card and install it with the CIA manager of your choice.
3DS - Copy .3ds to your SD card.
User guide
Jump to avoid obstacles (pipes) and make your highscore.
Press Tap here to break the game on the title screen will allow you to change the game parameters, such as Flappy Pixel's size, pipes' size, forward speed and pipe gap.
Note that if you change something, your highscore will not be saved; also it can cause crash or freeze if you change too much.
Controls
A - Start
Buttons or Touchscreen - Jump
C-Stick (3DSX build on N3DS only) - Jump
Start - Exit
Screenshots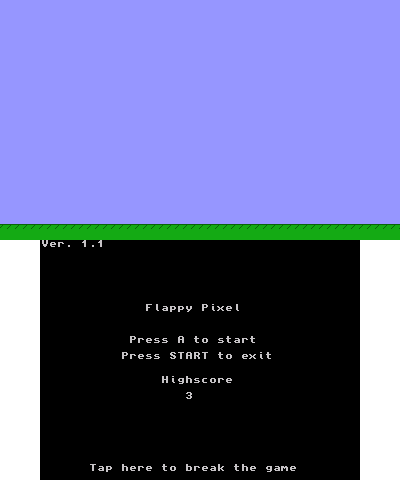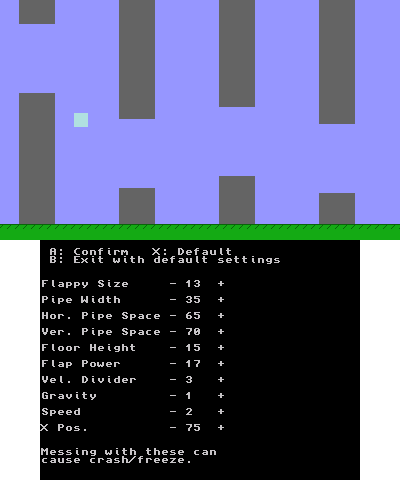 Changelog
Release 1.1
Now you can jump with touch. Additionally pressing D-Pad Up, Circle Pad Up, even C-Stick Up will also jump (N3DS-Only controls wont work in .cia and .3ds).
Main improvement is now you can make optimizations for game. For example you can change the Flappy Pixel's size, pipes' size, forward speed, pipe gap etc. With this, you can make the game easier or harder anyway you like. This may cause some hilarious results and pretty fun to mess with. Keep in mind that messing too much can easily cause crash or freeze.
External links