Fish Tank
From GameBrew
Fish Tank
General
Author
Ben2303
Last Updated
2008/03/15
Type
Arcade Games
Version
0.2
License
Mixed
Links
Download
Website
Fish Tank is a work in progress remake of Insaniquarium on DS. For now only Free Tank Mode is working. This release is Orange Fish Only to fit the PALib Compo theme.
It was participated in the NEO Spring Coding Compo 2007.
Features
Have your own fish aquarium on your NDS.
5 fish tanks with its own music.
Very relaxing, calms the nerves that carry over.
User guide
You can choose between 5 tanks with their own graphical and musical theme.
In this mode, your goal is to collect enough money to buy all egg parts.
For that, buy and feed fish that while growing will drop more valuable items.
You can buy different upgrades to enhance your feeding skills.
The game will end if all your fishes starve to death.
Controls
Left/Right - Scroll between menu options, Change subject (in game)
L - Select menu option
Start - Pause game
Tap an empty area - Buy/drop a food pellet
Tap coins - Collect them
Tap dirt - Clean your tank
Screensots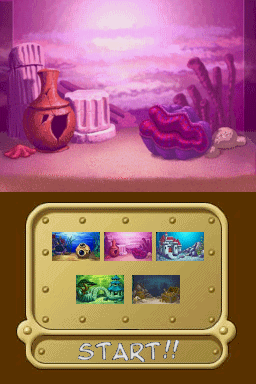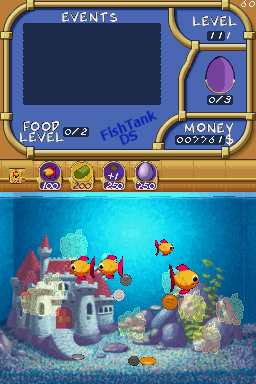 Compatibility
Game tested on real hardaware and No$GBA 2.3, works with full sound, rotations, zooms and alphablending.
Changelog
2008/03/15
R4/M3 compatible version, a few bugs here or here because code was broken, and author is working on something else now.
2007/01/27
PA Lib Compo release aka "Orange Fish Only Release".
2006/11/20
0.2, more a demo than a real game.
2006/10/17
First release, not much to say about it.
External links