File Manager
From GameBrew
File Manager
General
Author
Padnoter
Last Updated
2010/07/27
Type
File Browsers
Version
0.6U
License
Mixed
Links
Download
Website
File Manager is a homebrew application enabling user to manage all the files and directories on your homebrew card (R4 etc). It also allows user to send/receive files from other DS's running filemanager.
Plus download files directly from PC to DS via home wifi (without swapping SD cards).
Features
Navigate & List Files/Directories on DS.
Delete File/Directory.
Rename File/Directory.
Create Directory.
Move File.
Receive File from PC via WiFi (with/without WEP support).
Send/Receive file from DS to another DS via NiFi.
Display Freespace on DS.
Help screens (Press/hold SELECT key).
Multi Homebrew card support (by changing Root directory).
Configure WiFi & WEP setup.
Save configuration.
User guide
Using executable program (incldued), you can also send files from PC via home wifi directly onto DS card.
For Ubuntu user, use the executable for Ubuntu (included) to send files from PC via home wifi directly onto DS card.
Once the DS ready to receive the file, drag that file to an EXE program and will be sent.
WiFi/WEP usage and configuration
Press the Config button and configure the following.
Root dir - Type of your homebrew DS card. R4s uses fat1:, AceCards uses fat1:/ROMS, DSTT uses fat1:/games, etc.
PC IP - IP address of the PC that will be sending the file.
WiFi AP - Name of the Access Point you will be using for WiFi.
WEPmde - WEP mode, 0=unencrypted, 1=40bit (key of 10hex characters), 2=128bit (key of 26hex characters).
WEPkyid - WEP Key Id to use. Normally upto 4 per access point, the default (Key 1) should be entered as 0.
WEP Key - WEP key of either 10hex characters (if WEPmode=1=40bit), or 26hex characters (if WEPmode=2=128bit).
Once these are set, make sure you Save the configuration.
Controls
Stylus - Full control of the application
Screenshots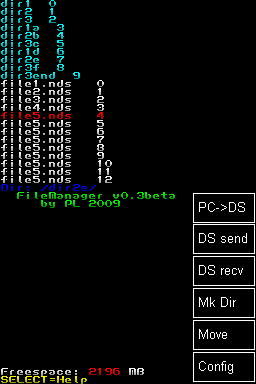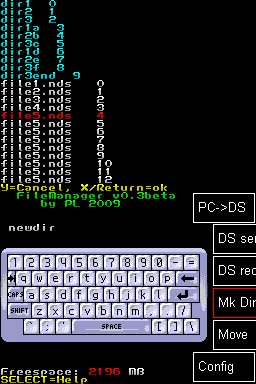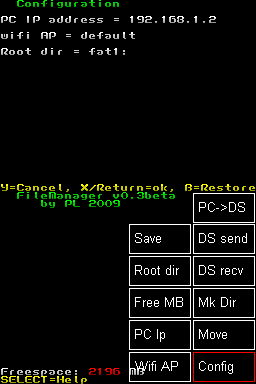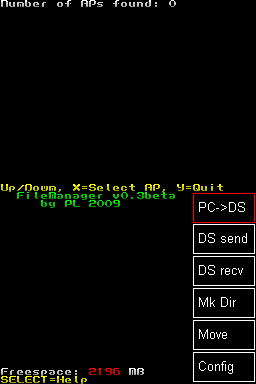 Compatibility
Tested on:
iPlayer (OS 1.3 firmware 1.0.6)
NDSTT (unofficial firmware 1.17a12)
SuperCard DSTwo (kernel 1.03)

External links