Explosive Gas
From GameBrew
Explosive Gas
General
Author
JimmyL
Last Updated
2008/07/13
Type
Arcade Games
Version
0.8
License
Mixed
Links
Download
Website
Source
Explosive Gas is a DS homebrew arcade game similar to Bomberman.
It was entered into a WiFi game competition.
User guide
Defeat opponents using bombs, You can play in a match of up to 8 players at once.
Be the last man standing (and not on fire) to get a point.
Move around and hit any button to drop a bottle of hooch. When you start the game you can only drop one bottle and the flames from the explosion will only travel one square. The last man standing is declared the winner.
Two powerups can be found in the old boxes and crates that are lying around, a can of gas, which will increase the range of your flames, and a two-four, which will allow you to drop more bottles at once.
WiFi Connection
In order to host a game, player needs to have your router forward port 9999 to your DS. Player can find the IP address of your DS on the WiFi menu screen in the game.
If player doesn't have port 9999 being forwarded to your DS, player can still host a LAN game, just be sure that the other DS's that try to join use the Join LAN Game option rather than the Join Game option in the menus.
Controls
D-Pad - Movement
A/B/R/L - Put bomb
X - Activate a menu action
Start - Display name of each player
Select - Exit game, Show credits (main screen)
Screenshots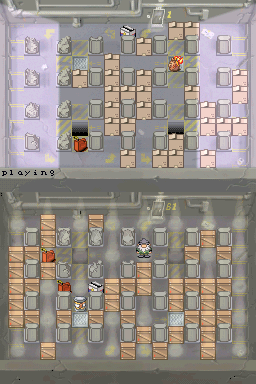 Changelog
Version 0.8
A second map layout. This new map has some holes on the upper level that are useful for surprise dive bombs on people below. Just watch that you don't fall into a dead end.
External links