Evolution: 28 ans de consoles portables
From GameBrew
Evolution: 28 years of consoles
General
Author
Virtua Peanuts
Last Updated
2007/07/28
Type
Other Apps
Version
0.92 Beta
License
Mixed
Links
Download
Website
An educational homebrew about 28 years development of portable consoles. It is in French.
It was presented in the Dev-fr Coding Compo 2007 with the theme Evolution, sponsored by DS-X, ranked 7th in the App section.
User guide
It attempts to point milestones, outputs and other major developments in the field of handheld gaming since 1980.
Controls
Uses Stylus.
Screenshots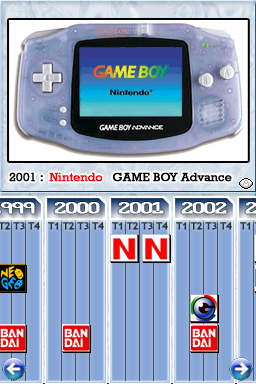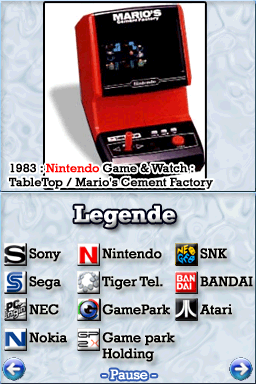 Known issues
Sluggish controls, return of the pause screen which ruins the frieze of the background a little.
No sounds on M3 during testing, works well on no$gba however.
ChangeLog
v0.92 2007/07/28
Changed icons of manufacturers instead of dummys.
Addition of a "Pause/legend" Screen.
v0.9 2007/07/27
First demonstrable version.
Credits
A big thank you to Rene who authorized the photos, figures and more.
External links