Everything's A Lie
From GameBrew
Everything's A Lie
General
Author
bksonic
Last Updated
2010/04/24
Type
Platform
Version
2010
License
Mixed
Links
Download
Website
Everything's A Lie is a DS homebrew platform game inspired by 2dcube's Karoshi games. There are 7 levels in total, several custom actions used in the game, as well as numerous PALib functions.
This homebrew was submitted to the DS Game Maker Easter Competition 2010.
User guide
The goal of the game is to catch the Easter egg that is located somewhere on the screen. Collect all the eggs to unlock the whole story.
You have 5 lives to begin with. Move one way or another through the scenes by jumping or changing the gravity.
Controls
Menu:
Stylus or Start - Start game
In game:
B - Jump
Y - Change gravity
L/R - Move around the stage
Controls vary during the course of the game.
Screenshots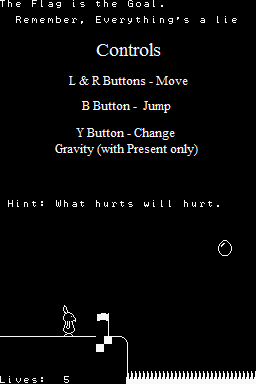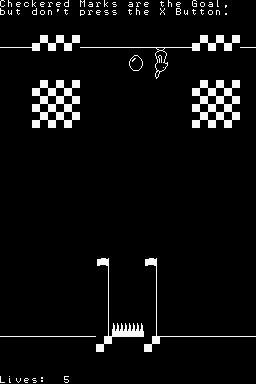 Compatibility
Tested on R4DS R4 Wood (firmware v1.28).
Changelog
Updated 24/4
Fixed collision bug and removed stupid gimmick from the second level.
Updated
Fixed numerous bugs and added a Secret Level, unlockable at the end of the game.
External links