Everlasting Love: Tomorrow Hill
From GameBrew
Everlasting Love: Tomorrow Hill
General
Author
Mia
Last Updated
2007/04/10
Type
Platform
Version
0.3
License
Mixed
Links
Download
Website
Source
Everlasting Love is a combination between a 2D platformer and a rhythm game for the NDS, in which you have to adjust your jumps according to the music.
User guide
Control a little monkey through stage:
The monkey can move right and left during jumps only. No walking.
As soon as the monkey touches a wall, it holds on to the wall until the next jump.
The height of the jumps depends on your rhythmic accuracy. The closer to a beat you jump, the higher the jump will be.
In addition to the music, the beats are visually represented by the head movements of the monkey:
However, the objective is not to perform the highest jumps possible, but to adjust your jumps depending on the platforms.
The aim of the game is to reach the end of the level, making as few jumps as possible.
Note: There's a hidden passage way somewhere in this level.
Controls
Left/Right - Move during a jump
A - Jump (height of the jump depends on your rhythmic accuracy)
Screenshots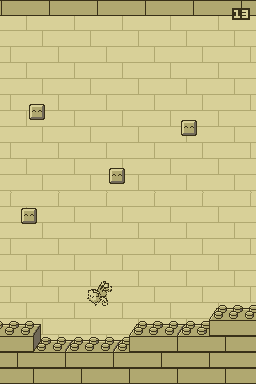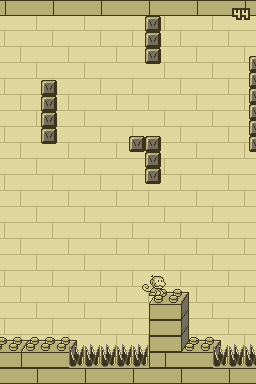 Known issues
Due to technical reasons (sound bug with PAFS in the current version of PAlib), the first level is not included in this release.
Changelog
Version 0.3
New level: Tomorrow Hill, on the eponymous song taken from Wario Ware Smooth Moves.
Press 'start' button to restart the game.
Added a 'old game boy yellow' color palette.
Separate collision map.
Minor adjustments.
Version 0.2
Improved detection of the rhythm. Now it should be much easier to adjust jumps.
The number of jumps is displayed during the game.
Improved collision with spikes. Now, you can touch the side of spikes without being hurt.
Fixed a minor graphic glitch when restarting the game.
Minimized the gap between two loops of the song.
Minor adjustment in background 2.
Credits
The song played during game, Everlasting Love, is taken from the original soundtrack of We ♥ Katamari.
External links