Escape
From GameBrew
Escape
General
Author
Kukulcan
Last Updated
2008/07/21
Type
Adventure
Version
2008
License
Mixed
Links
Download
Website
Escape is an old school adventure game based on an old game CPC rising from the ashes with the help of Lobo (gfx), Neumann (Alien Code), ALEKMAUL (DFT method) and several testers who tracked the project since beginning. It is the 18th NDS projects by Kukulcan.
It was submitted by Neumann to the NEO Summer Coding Compo 2008 and ranked 8th.
User guide
You are the Captain MAOUSS, following a damage with your spaceship, you were obliged to land as quickly as possible on the first planet come.
Your ship is finally crashed on an unknown island, you lost consciousness and you find yourself strangely in the middle of this island, but in your misfortune you still have with you your phaser (a lethal weapon).
This island turns out to be inhospitable and you should trade with the locals to get the famous ESCAPE ticket which will allow you to leave this evil island by submarine.
Will you be able to meet the challenge, facing the hordes of aliens and recalcitrant natives?
A decidedly old school game, hard, without the possibility of saving, it's up to you to discover the 50 sets of the game. A tip think about making a plan of your discoveries, the last word: With knowledge comes freedom, little beetle.
Island map - Walkthrough

Controls
D-Pad - Moves on the map
Hand 1 - Pick-up item
Hand 2 - Give, Use item
Skull - Kill
R - Music (on/off)
Start - Leave the game
Screenshots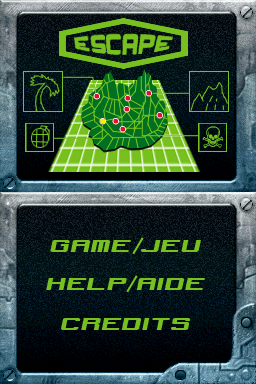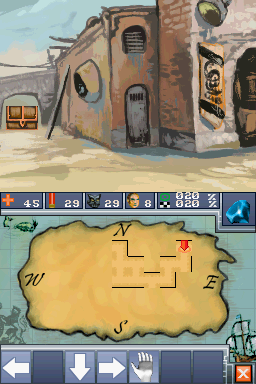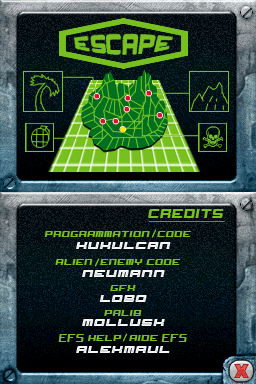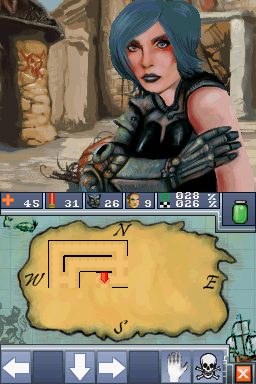 Compatibility
The game comes in two versions, EFS Version 1, and EFS Version 2. The differences between the two versions mainly fall on flashcard/homebrew platform compatibilities. See the list below to help you determine which version to install on your card.
EFS Version 1:
| Works with | Does not work with |
| --- | --- |
| DS-X 4Gb (Slot 1) | GAMES N 'MUSIC (Slot 1) Micro SD card |
| MK5 DX 16 Gbit (Slot 1), OS of origin | Max Media Docks FC 4 GB (Slot 2) |
| R6 Gold (Slot 1) Micro SD card | M3 mini SD (slot 2) |
| Supercard DS One (Slot 1) + 2GB SD card, SC OS v3.10 | |
| M3 FC (Slot 2), Firmware v35 | |
| Supercard SD (Slot 2) SD Card 2GB | |
EFS Version 2:
| Works with | Does not work with |
| --- | --- |
| M3 mini SD (slot 2) | GAMES N 'MUSIC (Slot 1) Micro SD card |
| | Max Media Docks FC 4 GB (Slot 2) |
Changelog
2008/07/21
Improved display of position on the map (idea: Schyzo).
2008/07/19
Moving in 4 directions CSA now possible (Idea: Orion-Jones).
Improving the routine of the alien (Programming: Neumann).
Adding a cry to differentiate the death of a man or a woman (Idea: Alexis B).
Voices on the main menu (Voice: Alexis B).
Credits
Line-up - Kukulcan.
Alien Line-up - Neumann.
Graphics - LOBO.
EFS Help - Alekmaul.
EFS - Noda.
Palib- Mollusk.
External links