El Nim DS
From GameBrew - a wiki dedicated to Video Game Homebrew.
El Nim DS
General
Author(s)
Pakoh
Type
Card Board Strategy
Version
0.2
Licence
Mixed
Links
Download
Website

El Nim DS (Spanish) is a classic game port to the NDS, which is about getting your opponent to take the last card. Available for 2 players or against AI.
It was part of the Scenery Beta 2009.
User guide
Two players take turn to decide whether to get one or two cards out of a stack of cards, where you need to avoid to get the last card in order to win.
Controls
Stylus - Navigate through the menu, Choose the number of card (1 or 2)
X - Leave current game
Screenshots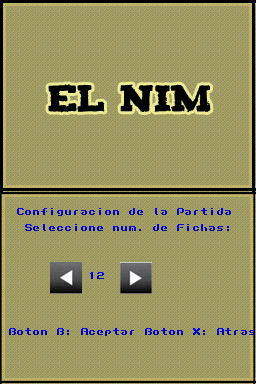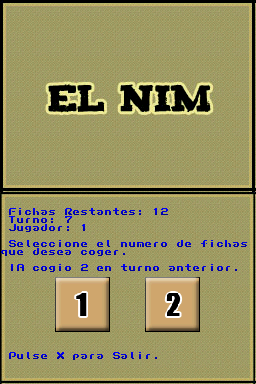 Changelog
version 0.2
Set 12 to 20 chips.
Improved menus and interface.
Adding instructions.
Improved the game interface: now you know the opponent's previous move.
Added option to choose who starts.
Compatible with Ideas.
version 0.1
IA available.
The game starts with 12 chips.
Start Menu.
Supports both NDS and NDSi.
External links