EasyRPG Player 3DS
From GameBrew
EasyRPG Player
General
Author
Rinnegatamante, EasyRPG Team
Last Updated
2021/10/29
Type
Game engine
Version
0.7.0
License
GPL-3.0
Links
[0.7.0 and Nightly Download]
Website
Source
EasyRPG Player is a game interpreter that allows you to play RPG Maker 2000, 2003 and EasyRPG games. It uses the LCF parser library (liblcf) to read RPG Maker game data and is part of the EasyRPG Project.
It aims to be a free (as in freedom) cross-platform RPG Maker 2000/2003 interpreter. The main goal is to play all games created with them as the original game interpreter (RPG_RT) does.
Features
Battle animations.
All event commands except movie playback.
Built-in font for most languages.
Games from any region run without additional configuration.
Inelukis MP3 Patch.
Map looping.
Map rendering.
Menus.
Most load/save works.
Move commands.
PicPointerPatch.
RPG Maker 2000 battle system.
Sound and Music output.
Support for all known RTPs.
Timers.
Vehicles.
Weather effects.
Multi-Game Save Importing (experimental).
Installation
Available in CIA and 3DSX formats.
easyrpg-player-3ds.zip - 3DSX for the Homebrew Launcher, copy contents into sdmc:/3ds/easyrpg-player/. CFW users need to delete the .xml file.
easyrpg-player.cia - CIA for installing as a channel. Searches games in sdmc:/3ds/easyrpg-player/.
Place the games (the game folder contains RPG_RT.ldb) in direct subdirectories of the 3dsx folder. Or for CIA in the mentioned folder.
User guide
RPG maker games
Game Compatibility List
The latest compatibility list is available from the official thread.
You can also play the Testgame to see the compatibility with the original interpreter yourself.
Screenshots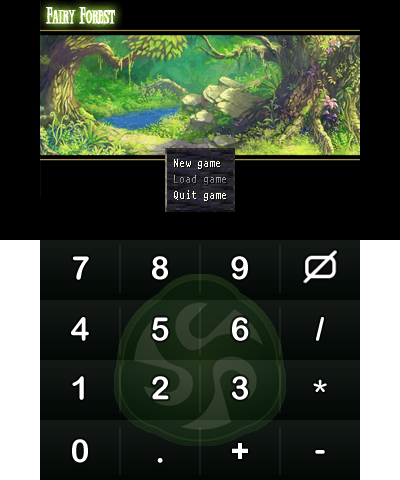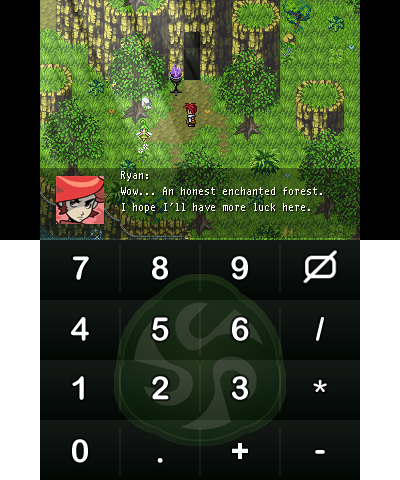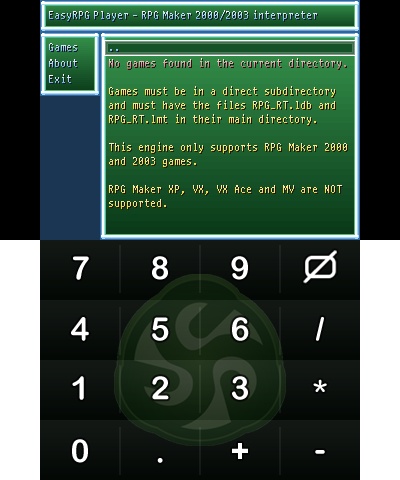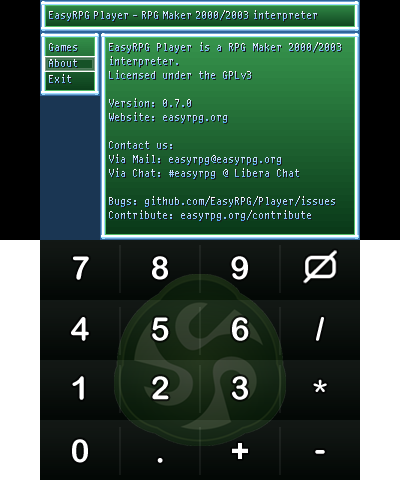 Media
Easyrpg - Developer Perks (IndependentArt)

Yume Nikki 3DS (Chompdron)

EasyRPG 3DS Testing: Ib (Gnmpolicemata)

Preview: EasyRPG Player running on 3DS (EasyRPG)

Known issues
Please see https://github.com/EasyRPG/Player/issues.
Changelog
v0.7.0 Sword 2021/10/29
Credits
EasyRPG Player authors:
Alberto Leon Meaños (albeleon).
Alejandro Marzini (vgvgf).
Alessio Tosto (Rinnegatamante).
Carsten Teibes (carstene1ns).
Christian Breitwieser (ChrisBreiti).
Diego Pedraza (zegeri).
Dmytro Kushnariov (rohkea).
Francisco de la Peña (fdelapena).
Gabriel Kind (Ghabry).
Glynn Clements (glynnc).
Khelifi Mehdi (BlisterB).
Mariano Javier Suligoy (MarianoGNU).
Matthew Fioravante (fmatthew5876).
Patrick Müssig (Tondorian).
Paulo "Zhek" Vizcaino (paulo_v).
rueter37.
scurest.
Shin-NiL.
Takeshi Watanabe (takecheeze).
External links