Dungeons of Daggorath 3DS
From GameBrew
Dungeons of Daggorath 3DS
General
Author
Darkweb (pyroticinsanity)
Last Updated
2020/06/05
Type
Role playing
Version
1.1
License
Mixed
Links
Download
Website
Source
Dungeons of Daggorath 3DS is a port of a 3D dungeon crawler game Dungeons of Daggorath. The game was originally created by DynaMicro for the TRS-80 from 1982 and is hailed as one of the first 3D shooters.
This was initially ported to the PC by Richard Hunerlach and was later ported over to the PSP by Darkweb.
Installation
Download the 3DSX or CIA (QR code) and run with either the Homebrew Launcher or install with FBI.
User guide
The game itself is a 3D dungeon crawler where you are out to vanquish the evil wizard in the dungeon. Do you have what it takes?
How to play
The original game is fully controlled by typing in commands so this port ties common commands to the 3DS buttons (e.g. pressing Up types MOVE UP) and the remainings are divided into 3 parts:
Shortcut key (Select button) - Use torch and equip sword, useful only at the beginning.
Command creator - To quickly type out custom commands.
Custom keyboard - For when doing incantations for rings (need to confirm with the Enter key).
This menu allows you to create all combinations of commands you will ever need.
ZSAVE and ZLOAD will use the default save file game.dod.
For buttons, A is Confirm and B is Cancel. While choosing an item, you can press X to specify the type of item.
Keyboard
Allows you to type in commands that are accepted by the game.
Once you have your command go to the Enter key to execute it.
File:
Use for saving, loading, restarting, or exiting the game.
You can Save and Load the game from 10 different slots to give some variety for those that don't feel like typing in a save command.
Configure:
FULL SCREEN - Does nothing.
VIDEO MODE - Allows you to change the resolution the Original Size (recommended), Fit To Height or Stretch To Screen.
GRAPHICS MODE - Switch between vector and normal mode.
Help:
Manual which is available under the How To Play section. Due to the 3DS resolution it is a little distorted but still readable.
You can use D-Pad to navigate and B to go back.
Controls
Up - Move forward/backward
Left/Right - Turn left/right
A/X - Attack right/left
B - Toggle keyboard
Y - Examine, Look (depending on what mode you're in)
L - Bring up command creator menu
R - Turn around
Start - Bring up game menu
Select - Execute P L T, U L, P R SW (only good for getting started)
Command creator menu:
A - Confirm
B - Cancel
X (while choosing an item) - Specify the type of item
Game menu:
Left/Right - Previous/next Menu
Down/Up - Move down/up
A - Confirm
B - Cancel/Return to Game
Help menu:
Up/Down - Scroll up/down
Left/Right - Previous/next Page
B - Cancel
Screenshots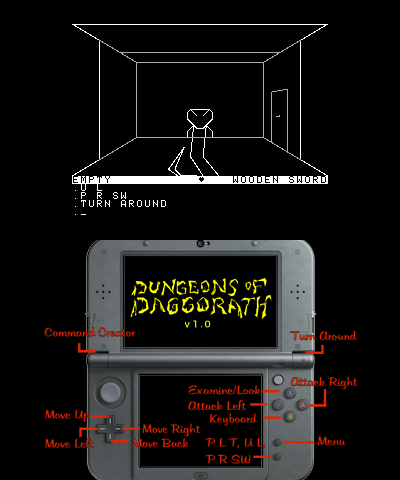 Media
Dungeons of Daggorath on TRS-80 CoCo (diegobf109)

Compatibility
Tested by developer on a New Nintendo 3DS.
Changelog
v1.1 2020/06/05
Bugs Fixed:
Fixed an issue where the 3DS would lock up if you closed via the Home button.
v1.0 2020/06/02
Enhancements:
Upgraded to ctrulib 1.8.0.
Added Button Layout Image.
Added the Game Manual.
Bugs Fixed:
Fixed an issue where the 3DS would lock up if you closed the lid.
Corrected the Vector Mode graphics mode.
v0.8 2020/04/21
Enhancements:
Support Stereoscopic View.
Create a CIA build.
Saving Takes a Long Time.
Buttons Should Be Changed to Be More Intuitive.
Bugs Fixed:
The Save File Date Isn't Showing Up.
Keyboard Characters Don't Show Up on Level 2.
v0.7 2020/03/27
Ported the PSP version to the 3DS.
Credits
Thanks nop90 for the OpenTyrian 3DS port.
fincs, MrHuu, oreo639, piepie62, MasterFeizz, and Badda for the help with tracking down bugs.
Richard Hunerlach for the original port to OpenGL and SDL. Source has been preserved here if you want to see the original.
External links