DronS
From GameBrew
DronS
General
Author
leinad (n00bey)
Last Updated
2009/08/15
Type
Racing
Version
1.6
License
Mixed
Links
Download
Website
DronS is an Armagetron clone for the NDS, which was initally a multiplayer snake game in 3D based on the light cycle sequence from the film Tron. This version features some code clean-up.
It was an entry of the NEO Summer Coding Compo 2008 and NEO Spring Coding Compo 2009. DronS V1.6 was placed 6th in the NEO Summer Coding Compo 2009, Game section.
Features
English, German, Czech, Spanish, Dutch and French language support.
Online-Multiplayer feature: Play against people all over the world.
Supports NeoFlash Rumble Pak.
Very customizable: You can set every color, speed, arena size, mirroring, acceleration, brakes ammount, maximal speed, rumble.
3D-Gameplay.
It is possible to steer the camera.
The "head" of the players are displayed as cars.
Walls have some textures on it.
The ground is mirroring everything.
The whole button-map is configurable.
Motion-Actions can also be mapped.
Installation
There are two versions, one with and one without motion support.
User guide
Every player is represented as a line and the objective is to avoid crashing into other players' lines (trails).
Controls
R/L - Help
Screenshots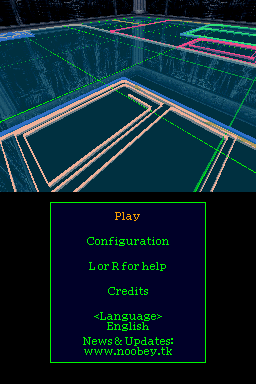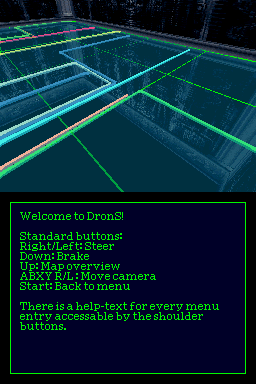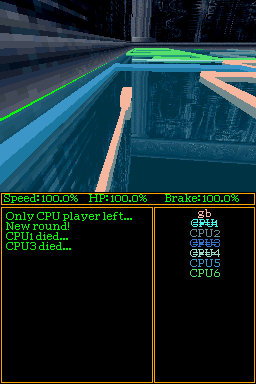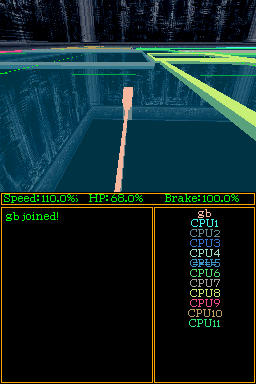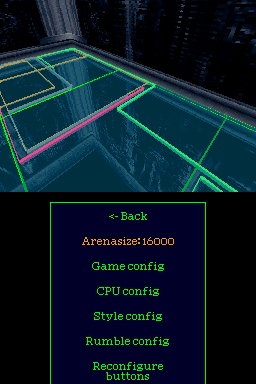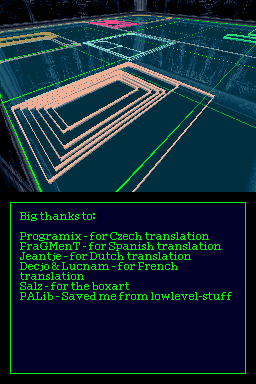 Changelog
V1.5
Changed maxplayers to 12.
No more PAlib, just kept the text-sheet.
Changed the default config.
Player positions are more mixed now; Every player starts on different positions (they no longer start next to each other).
Added motion support (change sensity in menu), motion is just taken as buttons in button-remap.
Credits
Thanks to:
Programix for Czech translation.
FraGMenT for Spanish translation.
Jeantje for Dutch translation.
Decjo & Lucnam for French translation.
Salz for the boxart.
External links