Dice Roller DS
From GameBrew
Dice Roller DS
General
Author
Wisen
Last Updated
2010/01/10
Type
Other Apps
Version
1.1
License
Mixed
Links
Download
Website
DiceRoller is a Dice Roller, useful for board (tabletop games) such as Dungeons & Dragons.
Features
Roll seven differents dices: D4, D6, D8, D10, D12, D20, D100.
Roll 1 to 99 dices.
Add bonus (1 to 99).
Details each roll.
Two languages (auto-detection): French and English.
Stand by mode.
Installation
Download and extract file.
Copy DiceRoller_DS.nds on your SD Card (root directory or any folder).
Controls
Up/Down - Move principal cursor (hand)
Left/Right - Move secondaries cursors (square and triangle)
A - Selection
B - Roll
X - Reset
Start - Help
With Stylus, roll area is between dices and numbers.
Note: The 10+ button allows you to enter numbers above 9. A cross, the red number, blue for the Bonus, appears when this mode is activated 10+.
Screenshots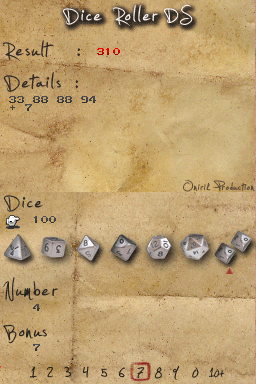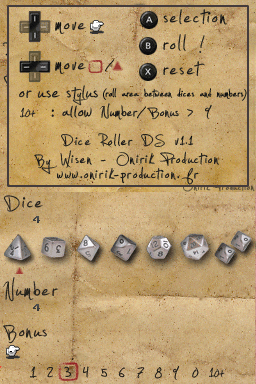 Changelog
v1.1 2010/01/10
New G.U.I.
More intuitive controls.
Stylus detection.
Adding stand by mode, help screen and reset.
Now in English.
1.0
Seven types of dice.
Run from 1 to 99 dice.
Added bonus.
Details of each roll.
Credits
Library: PALib by Mollusk.
Background texture: Aged Paper Texture by Nevermoregraphix.
Font: Estrya's Handwriting by Jellyka Nerevan.
External links