Dice Roller (Rainbow)
From GameBrew
Dice Roller
General
Author
Rainbow
Last Updated
2007/10/06
Type
Other Apps
Version
0.5b
License
Mixed
Links
Download
Website
DiceRoller is a Dice Roller, an application for board games like Dungeons & Dragons, Rune Quest or Ars Magica.
User guide
Select the dice you want to use (seven different at the top of the screen). Set the number of the run and modify with + and - (e.g. penalty, bonus), then click roll and the final result will be indicated in the upper display.
You can also create a Custom Dice, the faces of this die will be between 2 and 250.
To delete all calculations performed, click on the icon at the bottom right corner of the touch screen.
Controls
Operate with Stylus.
Screenshots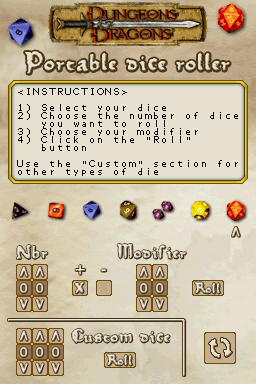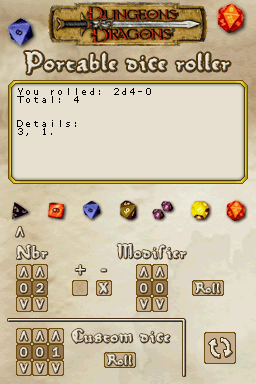 External links