DSonPSP
From GameBrew
DSONPSP
General
Author
yoshihiro
Last Updated
2009/09/14
Type
Handheld
Version
beta 7
License
Mixed
Links
Download
Website
DSONPSP is a Nintendo DS emulator for the PSP written by yoshihiro, based on DeSmuME core.
Installation
Put all archive content on the root of your Memory Stick and your roms (with the extension .nds) inside NDSROM folder.
User guide
Load ROM files (NDS)
Select the rom (.nds) you would like to run, a screen with the following preference settings/options will appear.
Screen SWAP - Choose where each screen is located.
Show FPS - Display/hide FPS (Frame per Second).
Enable Audio - Enable/disable sound output.
Frameskip - Available only up to version 0.6.
Language - 0 Japanese, 1 English, 2 French, 3 German, 4 Italian, 5 Spanish, 6 Chinese, 7 Res.
After the configuration is completed, press Start button to run the rom.
Compatiblility List
Controls
NDS:
D-Pad - D-Pad
Start - Start
Select - Select
Circle - A button
Cross - B button
Triangle - X button
Square - Y button
L - L-Trigger
R - R-Trigger
Note - Touchscreen click
Analog - Touchscreen direction
Screenshots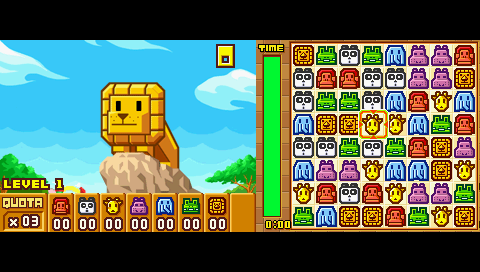 Changelog
Beta 7
SpeedUP again.
Use L & R for touch the screen.
Cursor added with 2 colors Black or White.
Frameskip set a 2 by default.
Fix FPS counter aswell.
Source code will be added on svn as soon.
Beta 6
SpeedHack ARM9VBLANK.
Fixed Glitch bug inside many game some weird cubes.
Fix Game lag Freeze like in Yoshi island.
Save game fixed now Bleach DS works and many other.
Source code updated.
Beta 5
Removed vertical screen mode but i've added the screen swap.
Added language support now working.
GU support added.
Very nice Speedup now many gamre are really playable.
Fixed when you nds games freeze your psp.
Source Code Added For PSP not cleanned.
Beta 4
Speedup.
More Fixe game freeze.
Source Code For PSP not cleanned and not debug.
Language config.
Beta 3
Updated GPU ,MMU, DMA ,RTC and Branch stuffs.
Speed up like in DBZ2 to 15fps, on old release run at 7fps.
Updated gfx3d core from DeSmume core 9.4.
Added debug information like that you can give your results when your games freeze.
Removed CPU Ratio Hack.
Beta 2
Added setting:

Screen Vertical needed for some games like pinball or football.
Speed delimiter.
Frameskip.
Sound.
CPU Ratio Hack.
Credits
Thanks for the beta test animatheque, Sektor, Kkrat0s76 and the icons.
External links