DSliver
From GameBrew
DSliver
General
Author
lyon4
Last Updated
2008/08/17
Type
Other Apps
Version
0.25
License
Mixed
Links
Download
Website
A text-based card library for the card game Magic: the Assembly.
User guide
It allows you to quickly oracle texts (ie, official texts) of all existing cards (except cards banned in tournaments) and includes a search engine to search for maps following certain criteria (for the moment only the colors, converted mana cost and types).
Search cards
For the moment, only mana, type, text are available in this menu function.
Mana tab:
"With" color - Display color cards that are checked with the selected color.
"Without" color - If selected, cards that color will no longer appear.
Convert mana cost - Show only cards with a ccm between the two values ​​(to get a ccm equal to a value, just put the min and max to the same values ​​by clicking equal to)
For the rest - Display map that corresponds to any checked criteria (e.g. colorless, artifacts, land).
Type tab:
Types and sub-types of maps work the same way (e.g. artifact, creature).
For subtypes, use the keyboard. If there is none, all sub-types will be included. If you typed something, only cards with the word typed in their type line appear.
Text tab:
Select name or type following text before you search for a name or text.
If you type a name in text, the search will look for cards with these characters in the name and/or the text box on the map.
To enable mana symbols, click the green mana symbol (red to disable this mode).
Controls
Main screen:
Stylus - Scroll through list, Select card (for text appears on top)
Up/Down - Forward/backward in the list of half a page
A/L - Move list to display cards that begin with the next/previous letter
X - Research (also on the top right corner of screen)
Menu:
Stylus - Select/Unselect
X - OK
Screenshots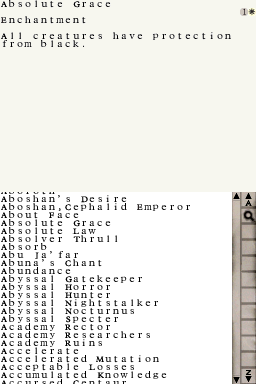 Changelog
Version 0.25 2008/08/17
Use of EFS-lib (lyo finished file to install).
Version 0.24 2008/07/17
Tab "text" in the search.
Version 0.23
To take account of new symbols Shadowmoor (Untap symbol and hybrids monocolored).
Slight change tab mana (to better integrate hybrid symbols monocolored).
Version 0.22
Addition of a menu (even brief) on the side (Slider not yet operational).
Version 0.21
Filter "type" functionality.
Version 0.2
Oracle on file external (DLDI).
External links