DSlair
From GameBrew
DSlair
General
Author
Tony Savon
Last Updated
2005/12/10
Type
Adventure
Version
0.1.4 Preview
License
Mixed
Links
Download
Website
A Nintendo DS port of Dragon's Lair. It includes the first 4 levels.
User guide
Dragon's Lair: The fantasy adventure where you become a valiant knight, on a quest to rescue the fair princess from the clutches of an evil dragon.
You control the actions of a daring adventurer, finding his way through the castle of a dark wizard, who has enchanted it with treacherous monsters and obstacles. In the mysterious caverns below the castle, your odyssey continues against the awesome forces that oppose your efforts to reach the Dragon's Lair.
Lead on, adventurer. Your quest awaits!
Controls
Select - Start slideshow
Start - Play
Screenshots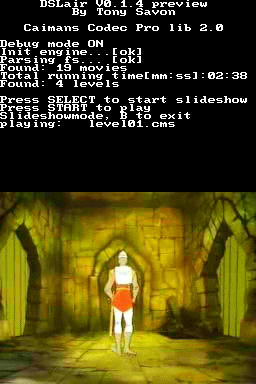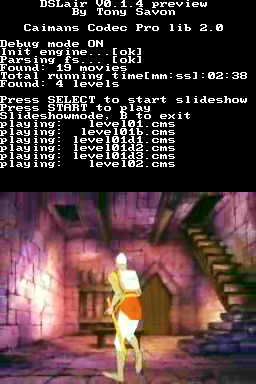 Changelog
Version 0.1.4 preview
Includes first 4 levels. Succesfully tested with Neoflash.
External links