DScraft
From GameBrew
DScraft is a DS homebrew adaptation of the Sandbox game Minecraft. At the moment this is a rather complete adptation of Creative Mode (or Minecraft Classic), which means there is only exploration and creation in this version.
Features
Ability to add and remove blocks.
Nice terrain generation (including cliffs, plains, small forests, lakes, etc).
Basic cave generation.
Map streaming from file, meaning really big maps can be used (1024x1024 maps are fully playable).
Texture pack support (the game's default texture pack is eldpack).
Saving.
Day/night cycle, clouds, dawn/dusk, stars, etc.
More or less dynamic lighting system.
Basic bottom screen (working buttons, inventory).
Tons of blocks.
(Basic) dynamic water.
Hand.
Installation
Drag and drop DScraft.nds and the dscraft directory to your card (no need to transfer the separate worlds directory).
NitroFS version - dscraft folder must be in the same directory as DScraft.nds. If it doesn't work, try the FAT version.
FAT version - dscraft folder must be placed at the root of the card (make sure you copied the entire dscraft directory to your card, in the same directory as the DScraft.nds file).
Included are a worlds directory and a program named mapGen.
The worlds directory contains several pre-generated worlds for you to explore; simply drag and drop the files to the /dscraft/worlds/ directory to install each one. The mapGen program is used to generate new worlds. Simply execute it and follow the steps.
New worlds can be installed by copying .map files to the /dscraft/worlds/ directory.
Texture packs can be installed by unzipping them in a directory in the /dscraft/packs/ folder.
Screenshots are stored in the /dscraft/screens/ directory.
Controls
Double tap - Jump
A/B/X/Y - Toggle fly mode
Start - Exit game
Screenshots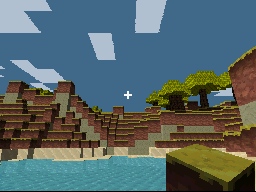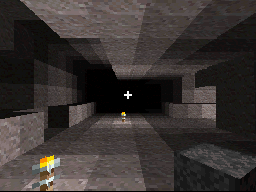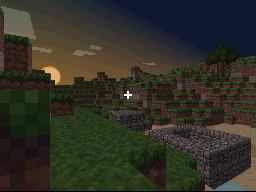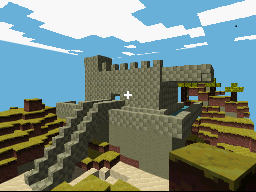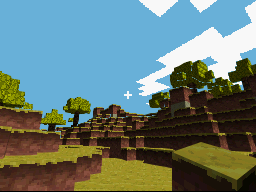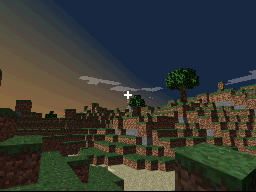 Media
DScraft (CannonFoddr)

Changelog
v310811_NITROFS
Added ladders and doors.
Added new dynamic lighting to make caves darker.
Added underwater effect.
Added control scheme 3 (doesn't require shoulder buttons).
Added mc2ds, a Minecraft to DScraft world converter.
Added mapUpdate, a program to recalculate some lighting values to work better with 310811.
Included new default worlds.
Made it easier to get out of water (again).
Fixed torch placing related bugs.
Fixed quad cache overflow bug.
Fixed inventory-opening crash.
Fixed moon.
Fixed menu glitch.
Fixed edge related bugs.
Many other various bugfixes.
Important: Included in this version is a program named mapUpdate. This program is designed to update worlds made with previous versions of the game to work better on 310811. (it will mostly fix trees) Simply drag and drop you map file on mapUpdate.exe and let it work for a second; it should create a brand new testmap.map file.
Credits
Special thanks:
#dev-fr.
eld for the textures.
notch and all of mojang for creating and maintaining minecraft.
boomboombass for the website.
Cyan, GBAtemp, Vloz, Sir_Voe and the two other people whose nicknames weren't in their emails for the donations.
External links