DS Vista
From GameBrew
DS Vista
General
Author
Filou HB
Last Updated
2011/11/23
Type
Operating systems
Version
3
License
Mixed
Links
Download
Website
DS Vista (French) is an adaptation of the Vista operating system Windows Vista on DS. Various functions are available.
Screenshots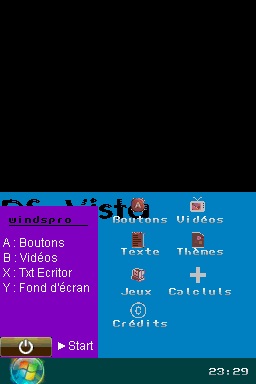 Media
Filou HB - DS Vista V2 (filouhb)

Compatibility
Tested on:
R4i v1.4
Cyclo DS
Supercard DSTWO v1.4/v1.4.1/v1.4.2E

Also tested on emulators Ideas and No$GBA.
Changelog
v3
Added a new game in the cactégorie "games": Tom's World (v0.1), previously released by Trickster HB [5 levels].
Changed the website address on all the links visible since the site has changed.
Correction of color defects present in the themes of Vista V2 DS.
Added functionality: "Calculation" which acts as a calculator.
Added functionality: "Credits".
Fixed bug present during the startup sound on R4.
Fixed bugs of backgrounds present in "+ or - DS" and "MonkeyTouch".
v2
Added 2 new themes: that of Vista and Windows 7.
Starting is done with the wallpaper in Vista.
New feature: the "Games" which currently contains 2 games.

Monkeytouch (created by HB Trickster) -> V1.
+ Or - (created by HB Trickster) -> v0.2.

Added transparency on the start menu icons.
Replace buttons "News" and "Exit" in programs that were previously disorders.
v1
Test of buttons (A, B, X, Y - R, L - Start, Select).
System FAT: play, record and edit a text with keyboard.
Change wallpaper: 3 Available Themes.
Stop Function: As windows, turn off the system (here the console).
Menu system: As under Windows: Start Menu.
Data loading at the beginning.
External links