DS Sokoban
From GameBrew
DS Sokoban
General
Author
adree
Last Updated
2006/10/20
Type
Puzzle
Version
20061020
License
Mixed
Links
Download
Website
Sokoban is a port of the classic puzzle game created by Hiroyuki Imabayashi in 1980. This NDS port has a total of 360 levels set out in two chapters.
User guide
Imagine yourself a warehouse keeper, you must push boxes in a crowded warehouse to their correct positions with a minimal number of moves.
Boxes can only be pushed, never pulled. You can push only one box at a time. Sometimes a box may get into unrecoverable position, in this case you must restart the level and try again.
Controls
Menu:
Stylus - Select
D-Pad - Move between options
A - Select
B - Cancel
In game:
Stylus or D-Pad - Move character
B - Undo
X - Restart Level
L/R - Scroll the map (if it exceeds the screen size)
Start - Pause, Back to menu
Select - Change music
Screenshots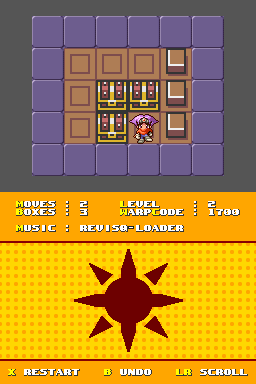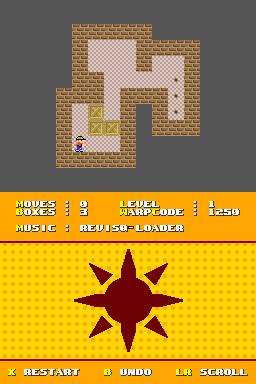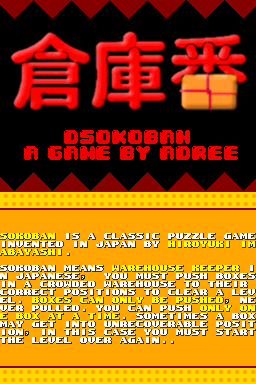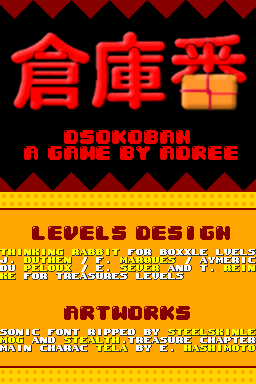 Compatibility
Tested on:
Flashcard Supercard DSTWO with Firmware EOS 1.11
Flashcard Ez-Flash IV with Firmware NDSLoader 1.73

Changelog
Build 20061020
Small bug fix in game scroll code.
Build 20061014
External links