DSTELNET
From GameBrew
DSTELNET
General
Author
ILOVEPIE
Last Updated
2011/09/16
Type
Other Apps
Version
Alpha 2.0
License
Mixed
Links
Download
Website
A telnet client for the DS. It is a user command and a TCP/IP protocol used to access remote computers.
Telnet is an old network communications protocol but one that often features in embedded hardware (although SSH has now taken over for the better stuff) and also has some long running games known as MUDs.
User guide
Make a text file at /DSTELNET/config.cfg with the URL or IP of the telnet server you wish to connect to.
Screenshots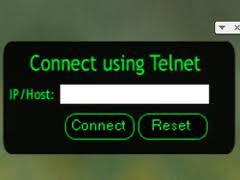 Changelog
Alpha 2.0
This version can connect to a telnet server of your choice.
External links