DS2Tools
From GameBrew
DS2Tools
General
Author
Fef51
Last Updated
2011/02/18
Type
Utilities
Version
1.4b
License
Mixed
Links
Download
Website
An application for all users of SuperCard DSTwo; which has two tools in one: SkinUp and DataUp.
It has the option to download and install the newest EvolutionOS available on the official website. All this requires a connection WIFI. 2 languages are available: English and French.
User guide
SkinUp
Tool for downloading skins for the supercard with EOS.
It uses the internet connection (WEP and SSID is not hidden).
To switch from one skin mode to another (NDS, Menu, GBA), you must move the cursor > on the first line of Title and then go left or right.

DataUp
Tool for downloading the latest release of EOS Shell, ds1patch.dat and NDSGBA.
Controls
Left/Right - Move between columns
Start - Change language
Select - Switch between SkinsUp and DataUp
SkinUp:
Up/Down - Move between skins already installed (Left/Right)
A - Choose default skin (Left), Skin preview to download (Right)
B - Cancel (Left/Right)
X - Clear Skin (Left), Download Skin (Right)
L/R - Change page (Left)
DataUp:
Up/Down - Move between data installed (Home/Left), Move between data that you can install (Net/Right)
A - To download more than one item, hold A on them to mark with a * (Right)
B - Cancel (Right)
X - Download data selected/marked with * (Right)
Screenshots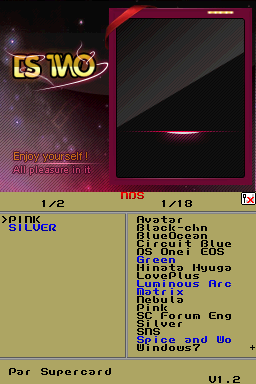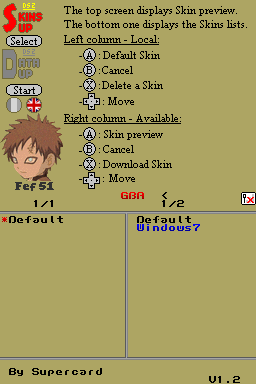 Changelog
1.4b
1.4
Max number of skins is locally raised to 15.
Previews are saved in the folder "/ _dstwo / temp /" to avoid having to download it each time.
On the title line, press "A" to download all the missing previews of the selected type (NDS or GBA PlugIn).
Added an intro page.
Starts without Wifi for local use (without a Wifi login).
A click on the wifi signal icon start the wifi login.
Size of WiFi icon is bigger to allow the wifi login with your finger (without stylus).
Fixed a lot of bugs.
MAJ du DevKitPro (devkitARM_r32-win32, libnds-1.4.8, dswifi-0.3.13, default_arm7-0.5.17, PAlib100707).
External links