DS-Craft 2D
From GameBrew
Mine-DS, formerly named DS-Craft 2D, is a 2D survival NDS homebrew game inspired by Minecraft. The latest version incorporates almost all survival and creative elements.
Features
Inventory.
Furnaces.
Water.
Food.
Crafting.
Zombies.
Caves.
Smooth, responsive UI.
Grass + Tree growth.
Stereo sounds based on location.
Particles (Furnace Fire + Water splashes).
Oceans/Plains/Jungles/Deserts/Tundra/Mushroom Biomes.
Various options (Disable regen, audio, graphics).
Localizations.
Installation
It comes with 2 version:​
Recommended Version (FAT) - Works with more cards, it requires extra files in the SD card (and will crash without them).
Emulator Version (NitroFS+FAT) - Works on emulators. Will crash on some cards and does not require any extra files in SD card.
In addition there are 2 alternate texture packs:
Scary Sauce - A refined texture with rich colors and a complex look.
Minecraft - The familiar look from the renowned game that started it all.
To use the texture pack, put the .tex files into /data/Mine-DS/Textures/ and change it in the settings menu.
User guide
FAQ
Q. How to add blocks in the background?
You must hold the crouch key (down) to interact with the background.
Same for destroying background blocks, this is to prevent background blocks from getting accidentally destroyed.
Q. How to make your own texture packs?
You can use the Texture Compiler and follow the instructions to create your own texture pack.
Controls
Left/Right - Run to left/right
A - Jump
Down - Crouch
X - Item left
B - Item right
Y - Switch screen
Start - Menu
Up - Climb
Select - Drop item
Screenshots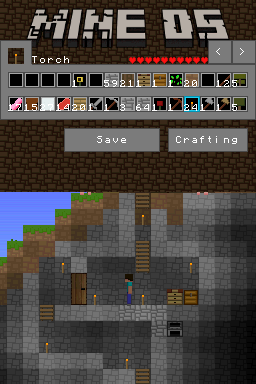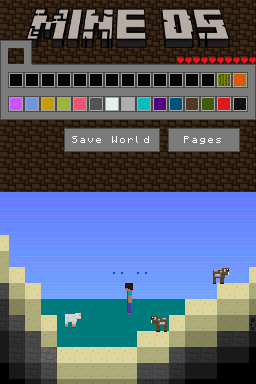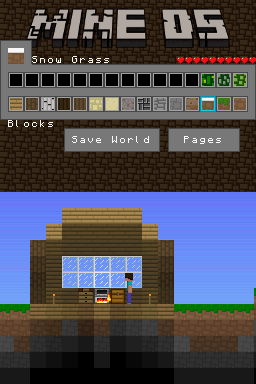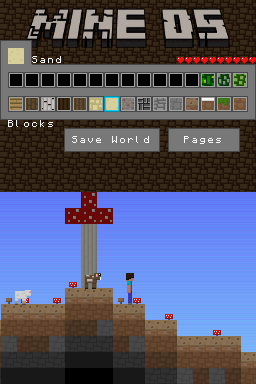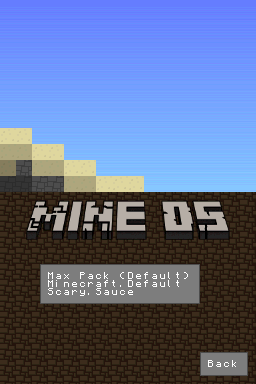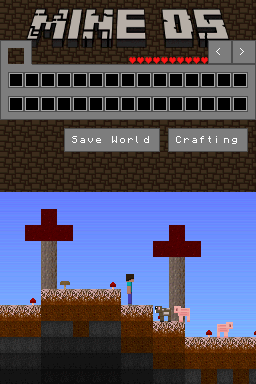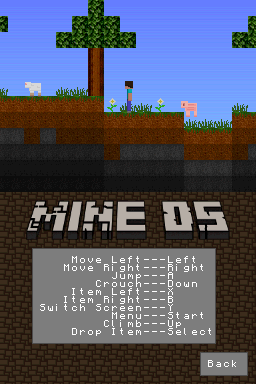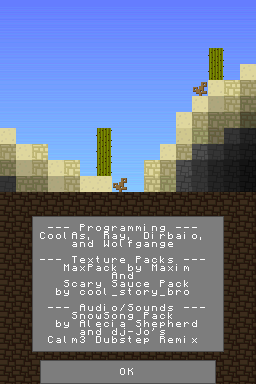 Compatibility
Tested on:
Supercard DSTWO (firmware EOS 1.11)
DSTT/TTDS (firmware 1.17a12)

Media
Mine DS v0.3.0 (Matthew Scholefield)

Mine DS Revision 347 (DSCraft2D)

DS-Craft 2D Intro Video (DSCraft2D)

Changelog
0.4.1 2016/07/25
A small and final release of Mine DS that brings in TNT functionality. TNT can be set off by tapping it or destroyed safely by holding the stylus on it. In survival TNT can be crafted on a crafting table using 7 sand and 2 coal. In survival, every block that is destroyed releases an floating item unlike Minecraft.
Along with that, this update brings along two alternate texture packs: Scary Sauce and the default Mnecraft texture pack. The binary texture files can be found on the website. This update will not break saved games.
0.4.0 2016/01/01
Localizations into English, German and Esperanto.
Caves.
Newer lighting engine.
Light leakage through background.
Various mob fixes.
New sprite graphics engine.
Larger world size (width increased to 1024 from 512).
Random spawn point.
0.3.1 2015/11/14
Fixes a number of bugs, improves a lot of internal code, and adds water splashes.
0.3.0 2015/10/05
Furnaces.
Crafting tables are functional.
Water with fluid system.
Oceans.
Food.
Ability to disable regen.
0.2.0 2015/07/05
An inventory.
Crafting.
Full world saving/loading.
Texture packs.
Chests.
Sounds (Stereo).
Streaming music.
Control Schemes.
Creative inventory.
Creative Flying.
A sleek new UI.
Dropped item.
Many bugfixes.
And much more.
2012/01/29
Added: Crafting, Music, Sound, Better Day-Night cycles, Nice World-Generation, Snow, Mountain, Sand and Gras-Biome!, Flower+Gravel Generation, Inventory, Growing Grass, Leaf Decay, Mining Times.
Addded Craftable things: Crafting-Table, Sticks, Torches, Wooden Pickaxe, Wooden Shovel, Wooden Axe, Wooden Door.
2011/10/20
What is included: Day/Night circle WIP, Add/Remove Blocks, Block-Chooser, Collision WIP, Gravity, Moving Camera, a 48x48 World.
External links