CtrQuake 3DS
From GameBrew
ctrQuake
General
Author
MasterFeizz
Last Updated
2018/07/20
Type
Shooter
Version
0.8
License
Mixed
Links
Download
Website
Source
ctrQuake is a free, unofficial port of Quake for the Nintendo 3DS.
Features
Mod support.
Online multiplayer support.
Enhanced sound processing.
Installation
Download contains the following versions:
Version 0.8 - Last official release (by MasterFeizz).
Stereoscopic 3D - In 3DSX format only (by MasterFeizz).
Hardware Rendering - Compiled from the hardware rendering branch intended for N3DS (modified by Wavy).
For the 3DSX build, put the ctrQuake folder into the 3ds folder on your SD card and run it with the Homebrew Launcher.
As for the CIA build, put it anywhere on your SD Card, then install it with a CIA installer.
To play the full game, you must copy the pak1.pak from your copy of the game to the id1 folder inside ctrQuake (shareware episode is included). Both 3DSX and CIA builds use the same path /3ds/ctrQuake/ to search for files.
To use mods, place mod folder in the same directory as ctrQuake.3dsx and create a shortcut with the launch parameters. See tf.xml as example.
User guide
You can host and also join online servers.
Dithering has also been implemented and can be toggled from the options menu.
A list of servers that should work can be found here.
Keep in mind that most servers require the full game.
Controls
L - Jump
R - Shoot
D-Pad Up - Next Weapon
D-Pad Down - Previous Weapon
A/B/X/Y - Camera controls
Circle Pad - Movement
C-Stick - Camera controls (N3DS only)
Screenshots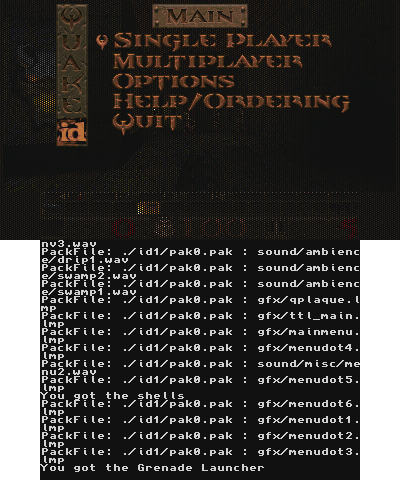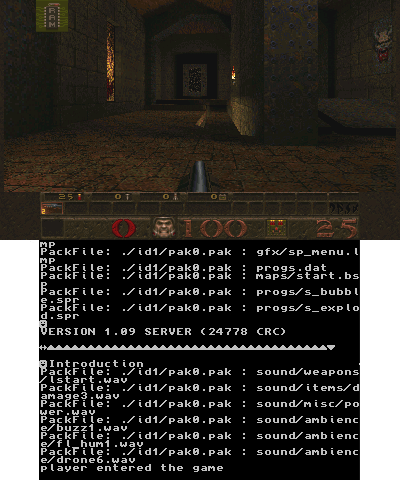 Media
Quake 3DS Port Homebrew Overview (TCPixel)

Compatibility
Tested on a N3DS v9.4 and a 2DS v9.0.
Performance on O3DS and 2DS is good.
Changelog
V0.8
Online multiplayer support.
Server hosting support.
Dithering.
V0.7
New touchscreen UI.
Bugfixes.
Fixed CIA banner sound.
V0.6
New and improved touchscreen UI.
Small performance increase (3-5 FPS on O3DS).
Renamed buttons and default configuration.
New CIA banner and 3DSX icon.
V0.5
Better audio thanks to @Rinnegatamante.
First CIA release.
V0.4
Input improvements.
Mod support.
V0.3
Partial network support.
Better touch keyboard.
V0.2
N3DS detection.
Initial implementation of touchscreen overlays.
Circlepad input.
Double tap to jump (KEY_SPACE).
V0.1
Credits
Felipe Izzo (MasterFeizz) - Main developer.
Rinnegatamante - Sound enhancements.
Thanks to:
Id Software - Source code of Quake.
Smealum and other developers of libctru.
External links