Crystals
From GameBrew
Crystals
General
Author
Orczalon
Last Updated
2006/09/04
Type
Board
Version
1.1
License
Mixed
Links
Download
Website
Crystals is the first NDS homebrew projrct by the developer. It is based on an old board game called Black Box.
User guide
The objective of the game is to locate all hidden crytals in the game board. To do so you need to shoot rays onto the game board and identify their behaviors.
A ray can hit the crystal, which will be reflected back the way it came in or be deflected out another way.
Screenshots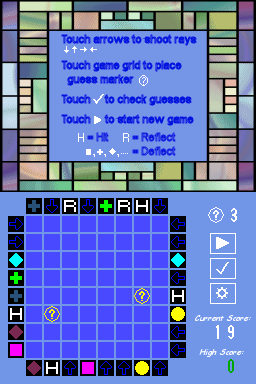 Compatibility
Tested on an M3CF and a G6Lite.
Changelog
1.1
Added Options Screen to allow number of Crystals hidden to be chosen (Changing options starts a new game).
High Score displayed (Only for this session. Still working on the save game stuff).
Some graphics improvements. Still have work to do on this for next release.
1.0
External links