Cookie Collector 3DS
From GameBrew
Cookie Collector
General
Author
Kaisogen
Last Updated
2017/06/16
Type
Other Games
Version
1.6.0
License
CC0-1.0
Links
Download
Website
Source
Cookie Clicker is a 2013 incremental game created by French programmer Julien Orteil Thiennot.
CookieCollector-3DS is a short Cookie Clicker-like app for the 3DS family homebrew. Built using devkitPro in C.
Installation
Available in CIA and 3DSX formats.
CIA - Install the .cia file with a CIA manager of your choice.
3DSX - Copy everything from ExtractToRoot.zip to your SD card. Make sure it has both /3ds/data/CookieCollector/ and /3ds/games/CookieCollector3DS/.
User guide
You start out by earning one cookie each time you press the button. Once you have accumluated enough cookies, you can spend them on buildings, which will automatically produce cookies.
Upgrades can improve the efficiency of clicks and buildings, and other mechanics in which lead to many other ways to produce even more cookies faster.
Controls
X - Bake cookie
D-Pad - Scroll through options
A - Confirm
B - Go back
Screenshots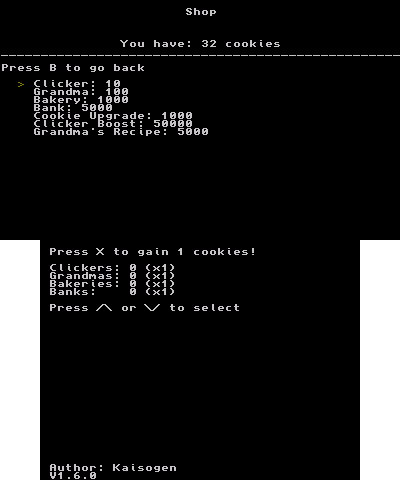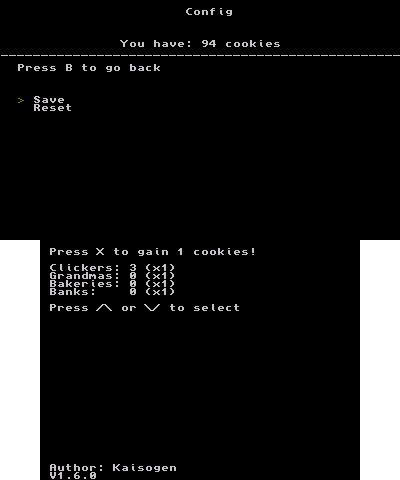 Compatibility
This supports Rosalina.
Changelog
v1.6.0
Re-wrote the entire save system, and a lot of the inner structure. Updates should come by quicker and more easily. Due to the re-write of the saving system, saves from previous versions will no longer work.
Introducing: The bank. A brand new building to buy.
And upgrades for each item up to the grandma.
Rearrangement of items in lists, and cleaning up of the home screen.
Various values were adjusted to compensate for new items and upgrades.
Credits
The Machinump's for making readable timer code.
LiquidFenrir on the homebrew discord.
Swiftloke and Realtime on the homebrew discord.
Sono for explaining the different concepts in C.
Extra Thank you to Pillows2/RyanTV for the icon for the game. Looks super pretty.
External links