Comprobación de Botones
From GameBrew - a wiki dedicated to Video Game Homebrew.
Comprobación de Botones
General
Author
cheleon15
Last Updated
2010/06/22
Type
Other
Version
Final
License
Mixed
Links
Download
Website

This is a homebrew buttons tester for the DS.
User guide
It tests the buttons on DS including Digital Pad, buttons A, B, Y, X, and L and R triggers.
Controls
Menu:
Up/Down - Navigate menu
A - Select an option
Test:
D-Pad/A/B/Y/X/L/R - Verify proper operation
Start - Back to menu
Tutorial:
Start - Back to menu
Screenshots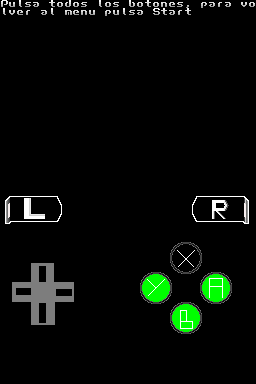 Compatibility
Tested on:
M3i Zero (Sakura firmware 1.48X)
M3DS Real (firmware 4.8)

External links