Clonemines
From GameBrew
Clonemines
General
Author
myersn024
Last Updated
2008/01/22
Type
Puzzle
Version
0.2
License
Mixed
Links
Download
Website
Clonemines is a DS homebrew puzzle game that is inspired by Tetris and Lumines.
User guide
The core objective of the games is to survive by rotating and aligning 2×2 blocks varying between red and green to form 2×2 squares of a single color which will be erased when the Time Line passes over them (every 10 seconds).
The game is lost when the blocks reach the top of the playing field.
Controls
Left/Right - Move blocks
Down - Drop blocks
A/B - Rotate blocks counter-clockwise
X/Y - Rotate blocks clockwise
L+R - Reset game
Start - Pause, Resume
Screenshots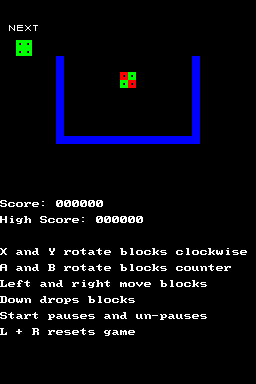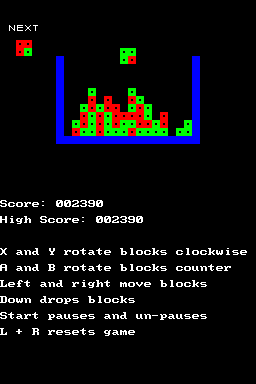 Compatibility
Tested on iTouch DS (firmware 3.2b).
Changelog
Version 0.2
Reduction of the playable area, from the full top screen down to 16 X 10.
Block deletion takes place every 10 seconds instead of 15.
Block deletion also happens independent of a block being dropped.
No sweeper line or destroyer block.
External links