ChorDS
From GameBrew
Chords Book
General
Author
Deuspi, Nob, Shinza
Last Updated
2009/04/19
Type
Music Apps
Version
0.3
License
Mixed
Links
Download
Website
The idea for the NDS ChorDS is about making music and particularly playing guitar. It is a portable songbook which able to read free internet tabs (in .TXT) but also scanings tabs. The .TXT would have to be editable, to add your own chords.
Installation
Download and extract file.
Place the directory /Chords/ChorDS.nds and file in the root of card.
Note from developer:
ZIP file proposed contains a directory with the structure of /Chords/Louis Armstrong-Wonderful world.txt and a version.txt reminding version and changes and of course the file ChorDS.nds.
User guide
The loading page checks your Card and the presence of the/ChorDS/ folder (Don't forget this folder to access to the main menu). In the Main Menu:
Tabs - To acces to your files.
ChorDS - Not implemented yet.
Beginners - Not implemented yet.
Controls
ChorDS is fully usable with the stylus.
The Browser:
A - Validate your choice
B - Return to the parent folder
Right/Left - Navigate into the different pages
Up/Down - Navigation in your files
Select - Return to main menu
The Viewer:
X - Dual or simple screen viewing
Y - Open/close the popup toolbar
B - Return to the parent folder
D-Pad - Navigate into the Tabs
Screenshots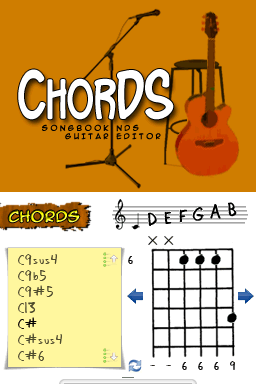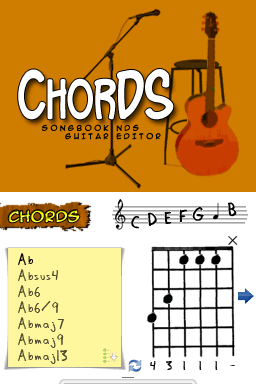 Changelog
0.3
The browser now recognizes the. Tab (Export Txt Pro Guitar).
Navigating the viewer with L + Arrows to navigate faster.
New menu for the Bible chord (1008 agreements referenced).
Saving energy (turn off the light when you close the DS Bonton + tab).
External links