Chapas GP
From GameBrew
Chapas GP
General
Author
Jovin
Last Updated
2010/08/20
Type
Racing
Version
2010
License
Mixed
Links
Download
Website
Chapas GP is a fast paced top-down racing game for the NDS. Inspired by the classic top-down racing game, but instead of driving a car or a motorcycle, you are driving a bottle cap.
It is participated in the NEO Coding Compo 2010 and Sceneery Beta 2010.
User guide
Gameplay
Use the Stylus to add speed to your bottle cap. Move the stick quickly and repeatedly on the cap.
It features 3 game modes:
Time Attack - Make four laps of the track in the shortest time possible.
Rookies Cup - Compete against three rookie rivals.
Pro Cup - Compete against seven professional opponents.
Tips
Do you know that you can change your nickname as well as your bottle cap?
If you change your favorite color or your name in the system settings device, they change in the game, too. Try it, there are 16 differents bottle caps.
Controls
Stylus - Enter menu (splash screen)
Menu:
Arrows icon - Select track and game mode
Left/Right - Select track
Start - Start race
In game:
Stylus - Steer
Select - Return to menu (after game)
Screenshots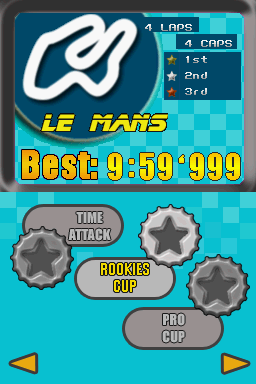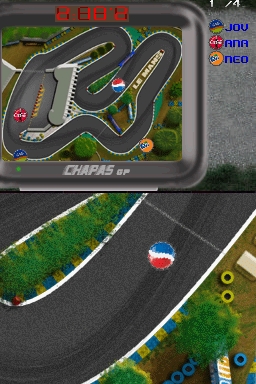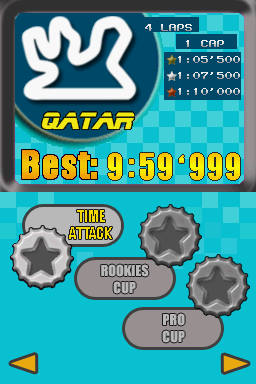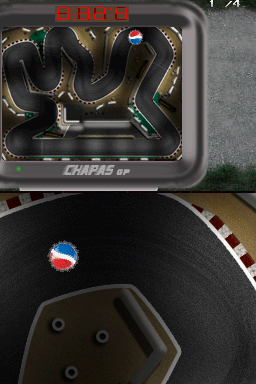 Media
Trailer ChapasGP (JovinVideos)

Compatibility
Tested on:
iTouchDS (firmware 3.8a)
Real M3DS (M3 Manager 4.7d)

Changelog
v1.1
Rumble Pack compatiable.
Menu handling extension.
Reduction of the test time limit to 1: 59'999.
Small bugs fixed.
Small improvements in transitions and graphic effects.
Game icon background in red color.
v1.0 Scenery Beta 2010
Improvements in the code that give the game a higher overall quality in multiple aspects.
Improvements in the caps.
Added Secret Cheats:

You can change the badge you play with.
Two clues: This change is not made from within the game. There are 16 different ones.
External links