CellsDS
From GameBrew
CellDS
General
Author
Clone45
Last Updated
2008/10/04
Type
Music Apps
Version
1.3
License
Mixed
Links
Download
Website
Source
CellsDS is a Nintendo DS Homebrew Piano Roll/Sequencer program. It is a flexible, programmable grid-based music sequencer for the Nintendo DS. It is six sequencers in one, with each sequencer being controlled by a userdefinable script.
Features
Dead simple user interface.
Ability to create your own unique sequencer rules using the Lua programming language. CellsDS comes with a developer's guide and example scripts to get you started.
175 sounds are included. With a little work, you can add your own sounds.
Ability to customize the scale.
Installation
Unzip cellsDS.zip somewhere on your computer.
Copy the resulting cellsDS folder and all of its contents to the root of card.
User guide
CellsDS is organized into 3 pages.
Page 1 - The Sequencer Page:
The first and most important page is the sequencer page.
The sequencer page is split between the grid (on the left) and the six engine buttons on the right.
Touching squares on the grid will place and remove notes.
Touching an engine button on the right selects an active layer.
All six layers run simultaneously during playback. Each layer is associated with its own engine (which is really just a fancy name for a Lua script).
Page 2 - Clock Control:
Use this page to control the BPM (beats per minute) of the sequencer playback.
The BPM is approximate.
Page 3 - Snapshots:
To save your current song along with all settings, use the Save feature on the save/load page.
You may save up to 200 snapshot files.
Refer to the instructions on the Snapshots page for details.
Controls
L/R - Switch between pages
Select - Select an engine
Start - Start/stop the sequencer
All other controls are based on the engine.
Screenshots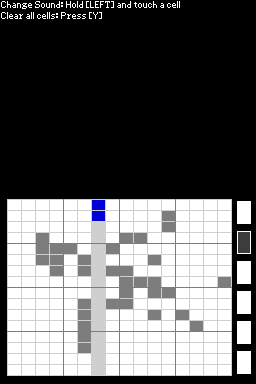 Media
Cell DS Demo (DKaufman)

Changelog
Version 1.3 Tenori-On and Monome
The major new feature is midi-output support using DSMI.
This new package contains updated documentation, scripts, and roms.
External links