Cave Story DS
From GameBrew
Cave Story DS
General
Author
rain
Last Updated
2021/09/08
Type
Platform
Version
0.3a
License
Mixed
Links
Download
Website
This is a homebrew port of Cave Story based on the CSE2 decompilation project, which itself is a decompilation of the freeware version of Cave Story.
Note: CSE2 is one of the open source reproduction of the Cave Story engine, except it is designed for accuracy and faithfulness to the original. Sadly, it was subject to a DMCA takedown.
User guide
Gameplay
The fast-paced gameplay of Cave Story revolves around Quote, a robot who wakes up suffering amnesia and who must explore and blast his way through cavernous areas in order to figure out his backstory and escape from the cave.
The character gains access to new areas as he powers up his weapons by collecting triangular experience crystals and solves various platforming puzzles.
Quote speaks to non-player characters scattered around the game world in order to learn more about the world and its inhabitants.
Notes
Config.dat and Profile.dat will be saved to the root of the SD card.
You can press Select during boot to see console output.
Controls
L+R+Start - Access the escape menu
D-Pad - Move
A - Jump
B - Shoot
X - Previous Weapon
Y - Next Weapon
Start - Inventory
Select - Map
Screenshots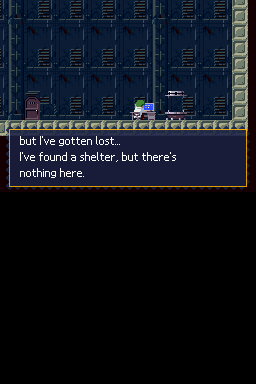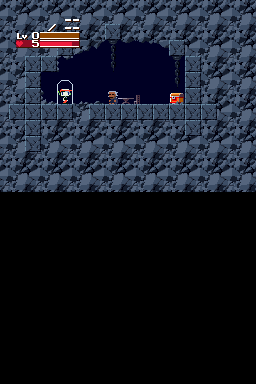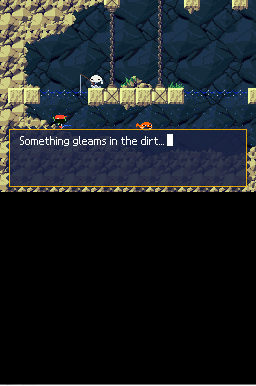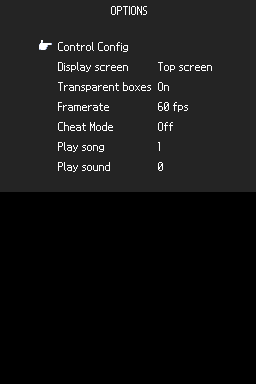 Compatibility
On 3DS or DSi you will need the DSi version to run.
If it fails to run, you can try launching it with nds-hb-menu 0.5.0 or TWiLight Menu++.
Known issues
The game will rarely crash when closing the lid.
The game will slow down when hitting a missile or using the Spur in the Plantation and Sand Zone.
There may be a loud noise during stage transition.
Changelog
v0.3a
Fix shooting while dead in netplay.
v0.3
Local multiplayer is here. Explore the caves with a friend over wireless.
Thanks to Drenn1 and huiminghao's wonderful Nifi code from GameYob and NesDS respectively.
If you experience lag, try selecting another channel.
Note that the client will not write the profile to the SD card during netplay (so you can take out the flashcart after loading on one console, and put it in the other to play with only one flashcart for both DSes).
Take care not to fire the Spur in a big area.
Moved input processing to beginning of frame, saving 1 frame of input lag.
Fixed bosses damage frames not appearing half the time.
Fix camera position in H**l ending event.
Tile 0 is no longer rendered.
Added some "fun" ROMs to play.
v0.2
Japanese language support.
Reduced filesize, so it can run on more flashcarts. (ADPCM sound with waveconv.exe)
Minimap works now.
60/50 FPS toggle.
Transparent textbox toggle.
Resize inventory screen.
Draw stage on inventory, teleporter, and map screen.
Emulators can save temporarily.
Fix L2/L3 missile sprite.
Fix camera position in Balcony heli event, and Passage.
Added event jump to cheat menu.
Text will appear when an error occurs.
v0.1
Credits
Thanks to:
CSE2- CuckyDev, Clownacy, GabrielRavier.
Lusty_- Testing.
Random people in the CSE2 Discord- Testing.
Aeon Genesis- Cave Story english translation.
devKitPro.
gl2D.
Drenn1- wifi code.
huiminghao- wifi code.
Ravenworks- Inspiring the port.
Pixel.
External links