CataPulte DS
From GameBrew
CataPulte DS
General
Author
sensei
Last Updated
2008/08/07
Type
Action
Version
1.2
License
Mixed
Links
[1.1 Download]
Website
CataPulte DS (French) is a Catapult game on DS, developed with PAlib.
Note: The link is for v1.1 only (latest release is v1.2).
User guide
Move the catapult with stylus.
At the top right of the bottom screen, there is a small icon (in the form of a rope), it indicates the power of the shot. You have to drag it with a stylus and bring it down. When you let go, the ball leaves. The more you descend the rope, the more force there is.
In the middle to the right of the screen, there is a basket of balls with a number on it, this is the number of balls available.
On the left, it is the peasant: it is he who replenishes the basket. Each time, he gives 3 additional balls (under you command).
However, when the peasant is refilling the basket, you cannot shoot. It's up to you to decide when is the appropiate time.
The goal is to defeat as many warriors as possible at the top and hold out for as long as possible. If a warrior arrives at the wall, he will attack it until it cracks. The game is over when the wall collapses.
The total score is the multiplication of the time held by the number of warriors killed.
Notes: When the ball takes off, the game uses zoom. This function is not supported by an emulator, so you will see a huge ball everytime.
Controls
Stylus - Move the catapult, Adjust power of the shot
L - Replenish baskets (+3 shoot)
Screenshots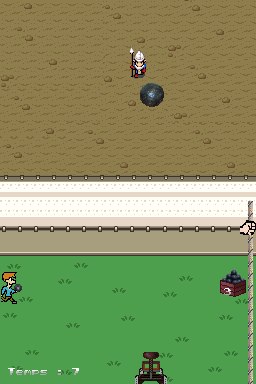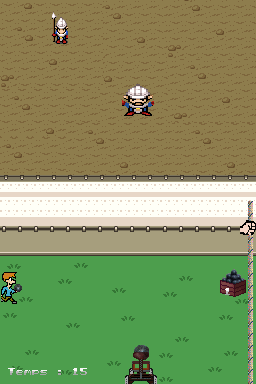 Changelog
Version 1.2
New additions and new rules.
Version 1.1
Change of background in zelda version (Thank you N64 François).
Change of the ball pit. Thank you Yogurt.
Changed the sprite of the soldiers.
The background music plays almost continuously (15 seconds silence between each music).
External links