CaramellDansen NDS
From GameBrew
Caramelldansen NDS
General
Author
isabella
Last Updated
2009/04/09
Type
Music Apps
Version
0.3
License
Mixed
Links
Download
Website
Source
Caramelldansen is an instant video create application for Caramell Dansen on the Nintendo DS.
The song Caramelldansen (Swedish for The Caramell dance) is the first track of the album Supergott from the Swedish music group Caramell. The album was orginally released in 2001 and became a famous Internet meme in the mid-2000s.
Features
Playback animation loops of various framerates up to 20 frames in duration.
Special effects such as panning, scaling, rotation, fade to white/black.
Mp3 soundtrack.
Cute and colorful appearance.
Records user inputs and replays in exact timing as performed originally sync'd to the mp3.
Adjustable framerates full stop to 60fps, with single frame advance option.
GUI using the touchscreen.
Power Management so closing the lid saves battery.
12 point japanese font renderer with SJIS input rendered in mode5.
Up to 3 backgrounds are used on engine A (the purpose of this was partly to test background management system).
User guide
While recording, use touchscreen to switch between different animation loop and keypad for different effects.
The video can be saved on the flashcard and played back later. Video can be recorded throughout the duration of the song.
Controls
L/R - Rotate
X/Y - Zoom
D-Pad - Pan left/right/up/down
A - Back to default
Stylus - Change options/animation loops
Start - Stop recording
Screenshots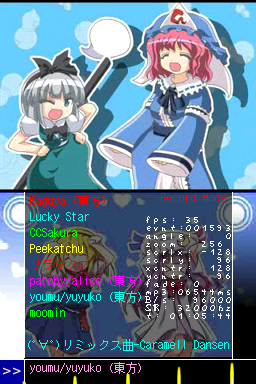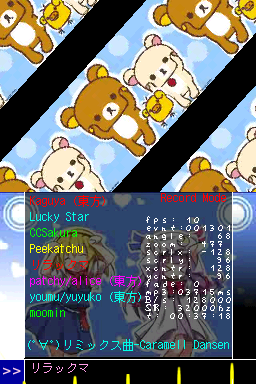 Media
(゚∀゚) Caramelldansen Instant Video Create. NDSのため (Isabella Lindquist)

Known issues
On cards with slower read times it is likely the mp3 playback will fail.
The animation loop data were taking from various .flv animations on the youtube. It's loading them as bitmaps and yet they still end up with numerous artifacts from the .flv format.
Changelog
v0.3
Added debug information at startup for troubleshooting.
Reorganized code and moved key detection to vblank interrupt.
v0.2
Improved Help menu (press select during rec/pb).
Added 2 more animation loops.
Added low quality mp3 mode.
Set default centering so that image zooms/rotates to center of image instead of upper corner.
Changed demo sequence.
External links