Car Playing
From GameBrew
Car Playing
General
Author
BALROG
Last Updated
2009/12/26
Type
Racing
Version
2.73 Final
License
Mixed
Links
Download
Website
Car Playing (French) is a survival dodging game coded in Micro Lua.
User guide
Control a car and you must avoid the dangerous psychopathic Martians who rush at you.
Screenshots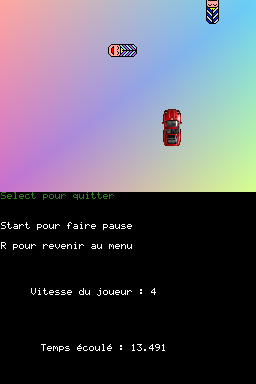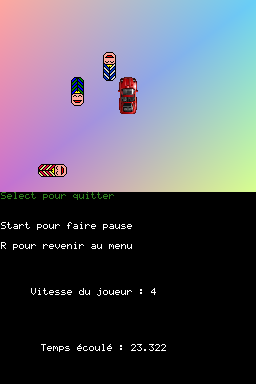 Changelog
Version 2.73
Version 2.7
Fixed bugs, including:

A collision issue with "enemy4".
The memory dump which was incorrect.
Sometimes enemies did not appear.

Added a pause system.
Now you can go back to the settings menu whenever you want.
Added an intro screen.
Version 2.2
Fixed various bugs and imperfections.
Added music.
Added a menu, appearing when launching the game, which allows you to change certain parameters.
Now enemies always move at speed 1 on their first trip.
Version 1.8
Sounds are now played correctly.
Enemies now appear in random order (before it was always Top-Left-Right-Bottom).
Version 1.5
Slight decrease in the maximum speed of enemies.
Added a sound and a background (the latter being very basic: the VRAM is saturated if an image is added).
Small modification of the appearance of enemies.
Improved collisions, which suffered from some imperfections in the previous version.
Reduce the size of the vehicle's collision mask: thus, we can now graze enemies.
Version 1.2
Fixed various bugs.
Decrease in difficulty.
External links