CaptureAssistant 3DS
From GameBrew
CaptureAssistant
General
Author
Sasori
Last Updated
2016/08/27
Type
Utilities
Version
1.3
License
Mixed
Links
Download
Website
Source
CaptureAssistant is a capture alignment tool for use with 3DS Capture Cards (console mod) and NTRViewer. It is based on lpp-3ds.
Installation
Available in CIA format.
Install the .cia file with the CIA manager of your choice (if you're using an application like FBI, copy calibration.png and calibration2.png to the root of your SD card).
Screenshots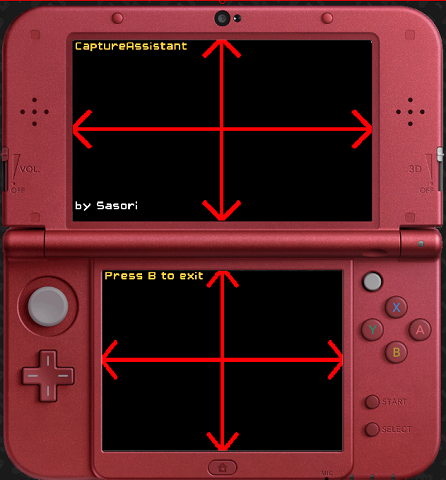 Known issues
calibrationalt's are slightly too large.
Changelog
v1.3
Fixed duplicate Title ID.
v1.2
Added text.
Added alternate grids to use rename calibrationalt & calibrationalt2 to "calibration" and "calibration2".
v1.1
v1.0
Credits
MatMaf - for the initial source.
Rinnegatamante - for making lpp-3ds.
External links