Can't Stop DS
From GameBrew
Can't Stop DS
General
Author
Nameless
Last Updated
2006/09/15
Type
Board
Version
0.2
License
Mixed
Links
Download
Website
This is a DS port of the board game: Can't Stop.
User guide
The goal of the game to be the first to reach the top of 3 of the mountain routes. For this, you have 3 common monks, 9 tokens each and 4 dice, which will allow you to progress on this peak of the Himalayas.
On each turn, you choose two pairs of dice among the 4 available. The sum of each pair allows you to either place a monk on the corresponding lane, or to advance a monk already present.
At the end of each turn, you can choose to stop. Your position is then saved by your tokens, which will allow you to come back just above on your next turn. If you continue but can no longer play (because neither pair matches a monk already placed or all lanes are blocked), you lose your progress.
The first to reach the top of 3 lanes with his chips wins.
Screenshots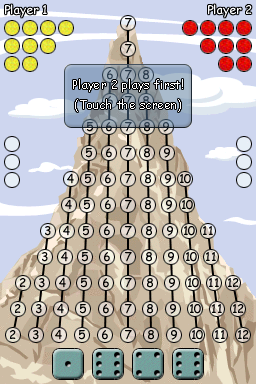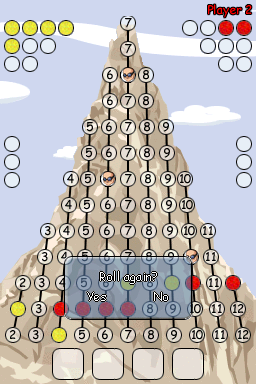 Changelog
version 0.2 2006/09/15
Added presentation screen, title and menu (the effects of transitions do not work on emulators).
Added a scrolling of the clouds
Added a title and game music
Fixed a bug on the return of tokens
Possibility to replay once the game is over
Finally real transparency (thanks to Mollusk)
Possibility to deselect the 1st die
Fixed a bug during the draw to find out which player starts
version 0.1 2006/09/12
All the game mechanics and graphics are in place.
Credits
Thank all the members of this forum, as well as Mollusk for its practical PAlib.
For those interested, the game has just been reissued by Asmodee.
External links