Caballo de Copas PSP
From GameBrew
Caballo de Copas
General
Author
pipagerardo
Last Updated
2008/10/05
Type
Card
Version
final
License
Mixed
Links
Download
Website
Caballo de Copas (Spanish) is a strategy card game similar to Microsoft Hearts Card Game.
User guide
Game rules
It uses the Spanish deck containing four suits: Golds, Cups, Swords and Wands. The deck has 40 cards (with different point values), four players will each get 10 cards.
Each player will then take turn to follow suit and withdraw a card. After each turn, the player with the highest card of the turn or fail to follow suit will have to take all the cards.
The objective of the game is not to get points, in other words make others take the points at every turn.
List of the cards from the highest to lowest within the same suit are as follows:
Ace (1), Three (3), King (12), Knight (11), Jack (10), Seven (7), Six (6), Five (5), Four (4) and Two (2).
Points system
In the deck of 40 cards there are 40 points in play per round:
Knight of Cups - 20 points for this particular card.
Gold - 2 points for each Gold card, total of 20 points for the entire suit (10 cards).
The rest of the cards - 0 point.
How to win
Player needs to analyse the situation in attempt to get the fewest points possible (or avoid getting the cards with points).
When a player exceeds the 100 point limit, the game is over with the player with the fewest points winning.
The winner goes up in Level and the one with the most points drops in Level. In the game options menu you can raise the limit from 100 points to 900 to play longer if you want. Whenever one player's level goes up, another player's level goes down and two remain as they were.
There are 10 levels in total.
Screenshots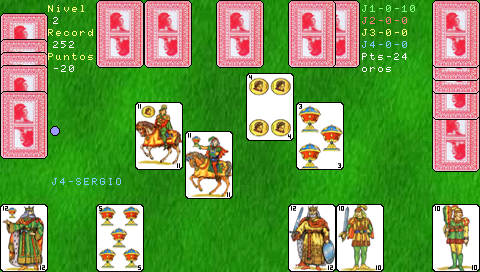 Changelog
Final version
Code released.
Complete version.
Tutorial in Level 1.
Completed all 10 levels.
Credits and Presentation.
Fixed various Bugs.
More stable.
Encrypted Files.
MD5 verification of some images.
MD5 verification of EBOOT.PBP.
External links